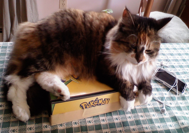 Cat Tales
by Nicola Burnell
They say that timing is everything. When shit happens, you have to step back, take a deep breath and look for the glimmer of light in the darkness. I'm usually pretty good doing at that. At least I thought I was, until the night my cat Soukie failed to come home.
I'd seen the various LOST CAT signs tacked to poles around my neighborhood. How sad, I'd think, smug in the knowledge that my cat was different. She would never get lost. She was crazy, wild and vicious.
She wasn't your typical Feed me, Pet me, Love me cat. She was your hide-behind-the-chair-to-ambush-the-dog-or-unsuspecting-house-guest-or-anyone-stupid-enough-to-piss-her-off cat.
Her looks were deceiving – who wouldn't want to pet her? She was absolutely gorgeous!
So why all the hissing and scratching at humans?
I have no idea, except to suggest that she really was a wild cat who condescended to make me and my two sons her pets.
She had us so well trained that when she whined to go out, we dutifully opened the door, despite the knowledge that a pack of healthy coyotes shared the woods near our house.

Editor's Note: This Two Part story won Mary Schaller First Place for the Chester Macnaghten prize in Creative Writing, awarded by McGill University.
The Switch: Part One
by Mary Schaller
Her name means Happiness. I look it up on the guesthouse computer, because everyone's name in Tanzania means something and I want to know what hers means.
When I find it (Furaha: Happiness), I choke on a laugh and call Max over from across the compound.
"Yeah right. She gets high off being angry!"
"I know!"
"Look up the Swahili for Child Abuser."
"It's not that bad!"
"Okay, then. Look up the Swahili for Bitch."
We lean over the computer, and it bleaches our skin bluer and lighter than it is already.
"Kuma Mamako. Miss Kuma Mamako!"
"God, she's a kuma mamako," Max says, before patting me on the shoulder and going to shower.
The first day, the children wore wrinkled and dirty red cotton uniforms. The boys wore button-down shirts and shorts that exposed their dry, dusty knees.
The girls wore dresses with white smocks. They ran, flying along with the van, leaping over potholes and chickens and tires.

The Switch: Part Two
by Mary Schaller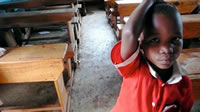 The second day he is sick we teach body parts. Furaha speaks Swahili, translates my English dialogue. Then I point to each bit of anatomy - Elbow, Knee, Neck, Foot - and pronounce it for the children in English.
Furaha slaps the blackboard with her switch, and the kids sit up with straight backs and call back the English in little animal voices.
We go to Furaha's house during recess, and I bring milk for her chai. She thanks me, and then she gives it all to me. I say No, that's not what I wanted, it is for you, and she shakes her head and hands me my cup.
The third day we sing songs in the morning, and Furaha has me teach the kids songs in English. On the spot, I cannot remember any songs, suddenly I have never before heard any songs.
And then I remember, all those little expectant brown faces staring at me, I remember The Itsy Bitsy Spider. I start to sing it, to teach it to them, and then the kids are singing too.
They already know it. I don't remember teaching them, and I don't remember Max teaching them, and then I hear Furaha: You are not the first Miss Mzungu and you will not be the last.

Junk Mail from God
by Michelle Pelletier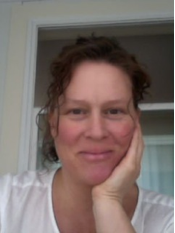 For many years now, All-that-is has spoken to me through junk mail.
Unsolicited Teacher Resource magazines, Field and Stream and Essence have thudded their way into my mail box with my name etched onto a glued piece of paper. As each arrived, I had the same response, "Huh?"
Initially I was dumbfounded. I'd ask, "What do I need Field and Stream for? I don't hunt."
When I received the first magazine, I knew it was a sign. But the future it suggested had no ties to my present. So I noted the future poking its head into my present and let it rest.
As each new magazine presented itself, I was intrigued. These random, slightly absurd calling cards from She-who-cannot-be-named had my current address printed on the front page in tidy letters. How did she know I moved from Maryland to California to Cape Cod?