Living the Dream: Ordinary Inspirations
The Unique Perspective of
Provincetown Artist Katherine Fenwick
by Katie O'Sullivan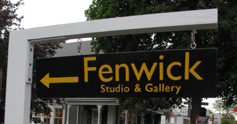 If you follow the yellow arrow off Commercial Street, just before the Thanassi Gallery, you will be led down a cobbled, perennial-lined path that bends around a corner to the Fenwick Gallery.
No larger than a living room, yet bathed in personality, Katherine Fenwick's working studio exhibits the humor and the talent of an artist who finds her inspiration in the simplest of objects.
"I'm serious about painting," Katherine explains, "but I'm not always a serious person." One of her most popular collections, entitled Junk Drawer Paintings, sold very well over the summer. "It started when I was in the middle of a huge, serious painting. To relax, I started dashing off these little works."
The small oils highlight a single object against the same red background. "I'd go into friends' homes and open up their drawers to see what was in them. All these paintings are from stuff taken from actual junk drawers around town."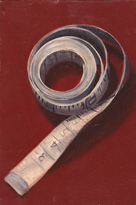 Junk Drawer Paintings - Tape Measure
"My situation is like a zillion other artists," she adds. "You have to work so much to make a living that you don't have time to do art."
Last winter, however, she decided to finally make the leap and make the time. The Fenwick Studio & Gallery threw their Grand Opening gala on June 17th featuring Katherine's paintings and the works of four other artists.
"The gallery space was offered to me; it kind of just fell into my lap," she recalls. "I had this opportunity and I took it, and I'm glad that I did."
Growing up in Louisville, Kentucky, Katherine spent the first thirty years of her life in the Midwest. She earned her BFA at the University of Louisville, and then her MFA at Oklahoma University. After graduate school, she headed for the East coast, spending eight years in New York City.
Katherine was making art and working at galleries, and for the last four years of her time in NYC she ran a conservation frame shop that was popular with big name galleries. "The art scene came to me through the shop," Katherine says with a laugh.
So how did she get to Provincetown?
"There was this girl who had the loft next to mine in New York, and her family was from P-town," explains Katherine. "She would spend her summers in P-town; she had a fishing shack here. I visited her for four or five years, spending fun summer weekends on the Cape. Then she got a grant to winterize her shack, with the provision that she live here year round. So I decided to visit her at Christmastime."
While Katherine was on the Cape for Christmas that year, an apartment "fell into" her lap. "I was thinking already about leaving the City – I was pretty much done with city life – so when this happened, I went back and gave three months notice at my job and just moved. It wasn't planned. I just moved."