Limitless Passion to Save
Marine Life
by Devon Ellington
The backbone of any successful non-profit organization is an enthusiastic, passionate, talented staff. The National Marine Life Center in Buzzards Bay is a prime example.
Walking into the Discovery Center of NMLC, you are enchanted by the brightly colored murals and the clever, tactile displays. Meet and work with the three dynamic, tireless, fearless women who are the backbone of the Center, and you see why this facility is unparalleled in the area.
Its mission is to rehabilitate and release stranded marine life including sea turtles, dolphins, seals, and small whales.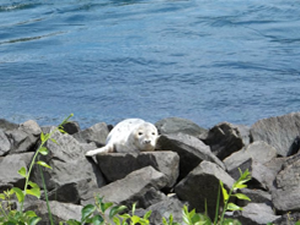 Photograph by Brie Myre
Its vision includes expanding scientific knowledge of disease cause and cures, exploring the interdependence between human and marine life, and teaching future generations how to responsibly steward marine resources.
A huge portion of that vision includes raising funds to complete the marine life hospital through a variety of events including the magical Mermaid Ball.
It's the passion for NMLC's mission and the belief that an individual can make a difference that drive the Center's staff.
Executive Director Kathy Zagzebski first fell in love with dolphins when she was young, then dedicated her life to marine animals in college. "I enrolled in Duke's Master of Environmental Studies degree program and signed up for the marine mammals class in the summer between my two years of study.
"The marine mammal class was fantastic," Kathy remembers. "Taught by several of the leaders in the field, it opened my eyes to the range and breadth of marine mammal studies. The mystery of the animals captivated me, and I resolved to pursue a career working with them."
Kate Shaffer, the Animal Care Technician and Facilities Coordinator, says, "My job is my passion! So many people give up their dreams to work in this field and I am one of the lucky ones who can honestly say I am what I wanted to be when I grew up! Every day is different in this field."
Adele Raphael, the Office Manager and Volunteer Coordinator, came to NMLC after years in corporate communications, working for companies such as National Grid and NStar. "I wanted to work in an environment where what I did made a difference -- no matter how small – in the world."
As they lead by example, the women also offer suggestions how each of us can make a difference. "Planting a tree instead of releasing balloons in someone's memory can prevent entanglement and save the life of a marine animal," Kate points out.
"Recycle, reuse, and reduce," Adele adds. "For the most part, we use sustainable materials when making crafts with our education classes."