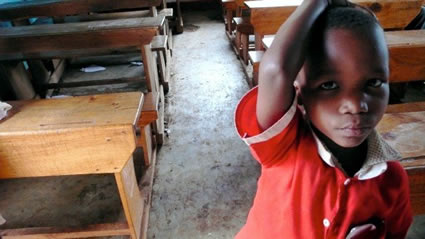 Photograph by Mary Schaller
"Here. We are here. Karibu." Welcome. She peels back her fabric door (a kanga catching the wind, billowing out like the skirt of a dervish). It is dark and wet and warm inside, and I can't see anything and it smells like soil, like making mud pies in the summer.
My eyes start to adjust, black giving way to a veil of neon green, and then I see the room. It is tiny and she has a small couch against the far wall and a shelf with a few Arabic and Swahili books. She has a white plastic table (the kind North Americans keep on their back porches) covered in a torn swath of fabric and a radio with a peeling strip of duct tape holding the batteries in.
"Sit," says Furaha, gesturing toward the couch. I feel like one of our students, looking up into her round eyes and following her commands. She picks up a thermos of sweet chai and fills two dirty white plastic cups. She hands one to me, and as I reach for it my fingertip brushes her nail.
"Asante."
"You're welcome."
Furaha keeps looking at me, she looks at my face for a while. It scares me, the way she is looking at me. Furaha does everything with intensity. Even in her silence, she is loud. I can't look at her anymore, so I look away, to the dirt floor. She looks down too, and she swallows.
"How old are you?" She asks me.
"Eighteen," I respond, and I know that that is both old and young, and above all, I know that it is inadequate. I want to ask Furaha how old she is. The first day I respectfully said "shikamoo" to her and she laughed and told me she is too young for that.
"I am twenty-two," she says, "ishirini na mbili. You are kumi na nane." She stares at me, right in the eye, and I feel like she is tying a net around me. Her gaze is sharp and strong and when I can't stand her looking at me anymore, she laughs.
"You are very funny." She says. My mouth falls open, and I quickly close it.
"I'm not funny!"
"Funny is not a bad thing, mzungu."
"But I think you mean it as a bad thing."
"I do not. You are funny."
"Okay."
"Are you hungry?" Furaha asks, standing and walking toward a plastic container of mandazi.
"Oh no, it's okay."
"No, you are hungry." Furaha places two mandazi on a torn page of newspaper. The headline is something about dead babies found behind a hospital in Dar Es Salaam. I show her.
"Oh, I do not read it," says Furhaha, "I just use that newspaper to eat mandazi off of. Babies die! How is that news?"
"I guess so."
"You like mandazi?"
"Yes! At home we have something like them called doughnuts. Police officers eat them." "Police officers eat mandazi too." We chew our fried bread. Furaha softens somehow in her own house. I can hear her saliva as she chews, and she becomes smaller, she becomes someone I could know.
"What made you become a teacher?"
"I wanted to have money. It is the only thing I can do." She smacks her palms together, dispersing mandazi crumbs into the dusty air. I nod.
"And also," she continues, "I want to not be controlled. I want no one to control me. The only way to not be controlled is money. So I have it, I make money. I am a teacher. I do not like school though. But it is important. Why are you a teacher, Miss Mzungu?"
"Why do you not call me my name?" I ask, and I regret it, I regret it fast. I want to catch it with a lizard tongue, pull it back inside me where it can rot and grow cobwebs.
"Well, you are not the first Miss Mzungu and you will not be the last. That is all. Don't get offended, Miss Mzungu."
"I am not offended."
"You are."
"Well, I want you to like me."
"I like you."
"I don't think you do."
"You are here, aren't you? I do not bring the other Misses Mzungu here. But you do not answer my question. Why are you a teacher?"
"Well, I'm not," I say, "I'm just a volunteer."
"But you're teaching. You teach more than I teach."
"I guess I came because I wanted to help," I say, and I look up at her and this time her eyes don't scare me. They're capable, is all. They aren't violent. They are a little scared, and they thank me for coming and they say That's Enough.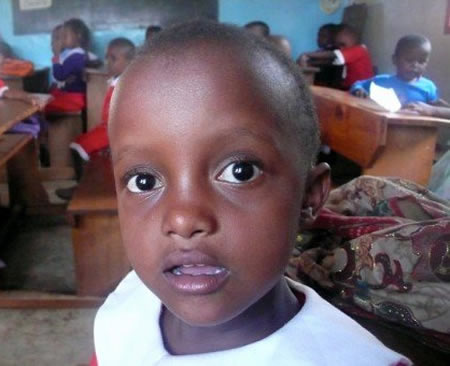 Photograph by Mary Schaller
I come home that day and Max is lying in bed, his face slick and tinged a wet seafoam green.
"You don't look good," I say, tapping his knee.
"Well I feel like shit," he says, laughing a little.
"Did Joseph take you to the hospital?" I ask.
"Yeah, they said I have an amoeba? I was sort of like ew, that's really gross but then I figured it's a pretty cool story to tell. Like when people ask What did you get in Tanzania? I can say, An amoeba!"
"Like a battle scar?"
"Exactly. But it was pretty gnarly, they had me shit in a tiny container, and I was really worried I'd –"
"Ew, Max, that's enough."
"How was school?"
"It was good. I had lunch with Miss Furaha."
"Oh god! How was it? Did she whip you with her switch?"
"Oh come on, no! It was nice, actually. We went to her house. She wasn't as scary as I thought."
"Are you getting soft on me?"
"I'm not getting soft! If anything, I'm getting hard. And why waste all that time hating her? We took her job, Max!"
"Who cares, she gets paid. If someone came into my work and did my job while all I had to do is sit and watch, well I'd be pretty happy about it."
Max misses school for a week.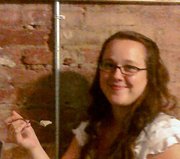 Mary Schaller graduated in 2006 from Cape Cod Academy, then spent a "gap year" volunteering both in a Guatemalan orphanage, and a school in Tanzania. She is a recent recipient of a BA in International Development from McGill University in Montreal.
Mary won First Place for the Chester Macnaghten prize in Creative Writing, awarded by McGill University for The Switch -this story is fiction, based on her real life experiences in Tanzania.
Mary lives with her sister in Seattle, WA, as she pursues a career with refugees while continuing to embrace her love of writing--and often visits her parents in the Web Princess palace.