Publisher's Note: Our "Woman to Watch" is Emmy award-winning documentary filmmaker Allison Argo. Her work, featured on Nat Geo and PBS, is a blend of passion, creativity and activism that gives a powerful voice to those who cannot speak for themselves.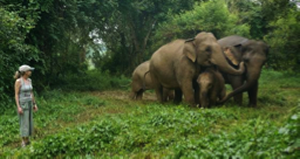 A Foot in Two Worlds
by Allison Argo
My zip code is 02631, and yet, I am living in a world of elephants. I spend nearly every day with them. I see them when I wake and before I fall asleep each night. I dream about them in the wee hours of the morning…
I am making a film. And with that comes immersion – a long, slow steeping in the juices of my subject.
For the next two years, I will inhabit the world of elephants. I think this is the part of my work I am most addicted to. The way my subjects transport and transform me. I study, I dream, I project, and I live in a world that stretches far beyond my mortal bounds.
I have one foot in my office here in Brewster and the other in the world of an Asian elephant named Pang Dao.
I met Pang Dao over 15 years ago. She was working on the streets of Bangkok each night with her mahouts, begging for money from tourists. For some reason, this elephant touched a nerve and has haunted me ever since.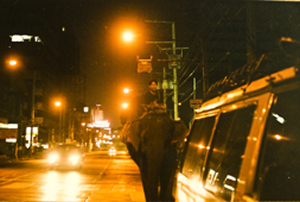 Perhaps it was the majesty of this creature despite the squalid setting; perhaps it was her resignation in the chaos of Bangkok; perhaps it was the distant look in her eyes, as if she'd long ago escaped inward… Perhaps it was for all of these reasons that Pang Dao is still with me.
I have decided to breathe life into her story. "The Story of Dao" will be a tribute to Pang Dao – and also a window into the plight of so many elephants like Dao, who are falling through the cracks.
For the past 25 years I have made documentary films. Nearly all of my films have been about subjects of my own choosing. It is a strange combination of guts, instincts and discipline that have led to six Emmys and boxes of awards that sit in my basement.
I've been blessed with recognition and yet, the more films I make, the less I seem to know. It's a humbling profession. Each film brings with it a new set of challenges and demands I've never encountered. I am a perpetual student, forever feeling inept, forever on a dizzying learning curve. It's exhausting at times, but exhilarating each time I make a breakthrough.
Creating a story is like living in the Wild West, where there is no law or order. From out of the chaos and the thin blue air, I must find a path. And at every turn there are diversions, distractions and demons. There is also the relentless ticking of the clock and the paying of bills…
The flip side of the creative world I inhabit is one of calculators and calendars, budgets and a daily avalanche of emails. For days at a time, I swim in a sea of details, trying to paddle my way back to creativity.
I often feel I'm leading a double life; while some days are wildly inspired, others are filled with the minutiae of running a business and downloading the latest editing software. I am learning more about computers than I've ever wanted to know. But it all comes with the job – and choosing to live on Cape Cod.

Before returning to the Cape (where I was raised) I lived and worked in Washington, D.C. – just eight minutes from National Geographic, with whom I was making films. In D.C., there were hundreds of professionals working in the documentary film business. If I needed an editor, I could have one of the best on my doorstep in the blink of an eye.
Since moving to the Cape, I've had to learn to work remotely – or do it myself. As a result, I've edited my last three films myself. In some ways it's liberating; in others it's lonely. I dream of a day when Cape Cod will be crawling with filmmakers!
The Cape has forced me to develop new skills and push my limitations, but it's also given me the space to do so. I do believe that life is gentler here. I feel the camaraderie of a tight-knit village. My friends "get me": they love who I am and support what I do – as foreign as it might sometimes seem.
After a long flight, the drive home from Logan is a lot farther than it was from National Airport. But each time I return from a shoot and cross the bridge, I can feel a physiological change. My jaw relaxes, my breath deepens, and I get that smug feeling that many of us experience when we return to the Cape: I belong here.
Living on the Cape is not the only incentive for reinventing the way that I work. The economy is also a major motivator. Television budgets have shrunk to the point where it's almost a losing proposition to say "yes" to producing a film for National Geographic. If you set your bar high (which I do) it has become nearly impossible to create a quality film with the available funds.
And so, in the spirit of the times, I've decided to take a different road. To raise the initial funding for "The Story of Dao," I've turned to friends, colleagues and strangers.
Through a group-funding website called "Kickstarter" I was able to raise enough money to allow me to scout and shoot in Thailand this past spring. It's been a phenomenal experience: heartening, empowering, and as always, humbling. Through generous donations ranging from $5 to $5,000, my extraordinary supporters have provided a springboard for "The Story of Dao." Together, we have formed a coalition to raise awareness about elephants in Asia.
It's only the first step in what promises to be a long and full adventure, but the film is off to a great start. I have hours of beautiful footage that I am editing into a promotional video. With that, a written film proposal, and a detailed budget, I will embark on the next leg of my journey.
From my Brewster office, I will chart the map… Raising funds for a film may sound daunting, but those who have tracked my career know: when I am passionate about a film, I see it through. It may take a while, but that's why we call it a journey – right?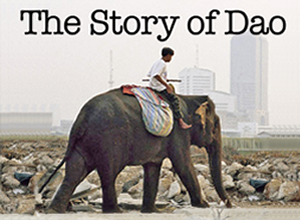 If you would like to join in supporting "The Story of Dao," please visit: www.argofilms.com or Facebook page.
To watch Allison's most recent film, check your television schedule for "9/11: Where Were You?" which aired on the Nat Geo Channel. The film is a collection of intimate stories of people who survived 9/11 and how their lives have changed.
All Photographs Published Courtesy of ArgoFilms
If you know of a Cape Woman who is making her mark on her community and would like to share her story, please email the publisher: Nicola@capewomenonline.com
| | |
| --- | --- |
| | |
Following is an excerpt from Allison's journal during her recent shoot in Thailand:
6.13.11 A Thousand Stories. The Last Post from Thailand
It is raining in Bangkok. I can hear the thunder rolling outside my hotel room.
My head is swimming with elephants. Around every corner, there's another – and each has a story to make your heart stop. The past month has been sobering. When I close my eyes, they parade by in a silent, grey slide show of lost and found souls: Motala, Wassana, Pang Dow, Bobo, Ton Gee, Willy, Mosha, Perm Sat, Taxi, M… and of course, Pang Dao. There are dozens more whose names I didn't get. There are thousands of stories in Thailand.
Elephants in Asia are caught in a nasty tangle of calamities: with little wild habitat, there are few wild elephants. And because there is no more logging, the domesticated elephant's purpose has vanished… But here they are – more than 2,000 of them in Thailand. And I was told by numerous sources that elephants are still being captured from the wild (illegally) and sold into captivity.
Street begging continues (in the suburbs now), trekking camps are springing up like mushrooms (not all of them humane) and sanctuaries are taking in as many individuals as they can afford (with the very distant goal of returning them to the wild). Solutions are as complex and elusive as the problems themselves – but at least a consensus exists: there is a problem.
There is no doubt in my mind that "The Story of Dao" will reach deep into the public conscience, raising awareness and concern. The realist in me suspects that it won't be a quick process, but I am armed with a lethal mix of passion and conviction.
During the past five weeks I've been given a crash course on the issues, the players, the geography, the logistics – and most important: the current reality for elephants in Asia. I am ready to fasten my seatbelt and drive for as long as the journey takes.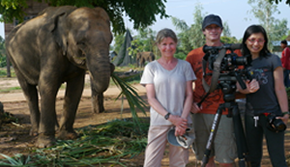 It has been an extraordinary five weeks. We have worked our tail feathers off and the material we've shot looks great. Joe is a superb cinematographer and has a remarkable understanding and comfort level with elephants. Nim has been indispensible, shooting second camera, holding the boom pole, lugging equipment without complaint and translating till her head spins. We'd have been lost without her. It's been a small but powerful team :-)
I must close now and try to cram my mud-caked belongings back in my bags... It's been an amazing journey and I have you to thank for it. Together we will make a difference.
With everlasting gratitude,
xx Allison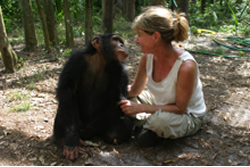 Allison Argo is a documentary filmmaker living in Brewster.
Her company, ArgoFilms, is dedicated to television programming that makes a difference. Argo's films have won six National Emmys (12 nominations), the prestigious duPont Columbia Award for journalism and countless international awards from New Zealand to Japan.
A champion of endangered life, Argo attempts to provide a voice for those who have none – be it endangered birds, chimpanzees in captivity, or people who have been compromised by a changing world.
As a producer, director, and writer, Allison has traveled the globe searching for gorillas in the Impenetrable Forest, combing the Amazon for endangered frogs and scouring the underbelly of Bangkok in search of displaced elephants. To learn more about her current film, visit: www.ArgoFilms.com