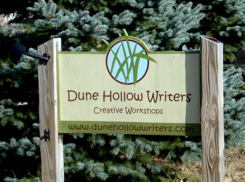 Dune Hollow Writers:
Writers Welcome
by Joan Flynn
I was a happy, oblivious writer for many years, penning verses for family birthdays and anniversaries, bleeding my heart onto paper during my tumultuous teens. Writing gave me a vehicle for all that chaotic busyness going on inside.
And then, in my early twenties, I had a disastrous weekend at a poetry critique which led me away from sharing my words for a long time.
Those other writers, none of whom I knew, took the words that had come from the deepest places inside of me and made them seem silly and frivolous. I came away wounded, unsure that anything I wrote was worthy of sharing ever again. It felt like I'd been an imposter. Who did I think I was, forcing others through the agony of hearing another ho-hum missive from me?
Yet, my fingers itched to spool out the phrases and impressions that crowded my head and woke me at 3 a.m., so I wrote, but I kept it to myself; sort of an apologetic secret.
It was a lonely time. I missed sharing with others and hearing their words. And then, in the early 1980's, someone told me about a writing group in Northampton, MA, near to where I lived, that sounded safe and supportive; that made me want to take a chance again. It changed my life.
My workshop leader used the Amherst Writers & Artists Method developed by Pat Schneider in Amherst, MA (more about that later) and suddenly, I was free to write whatever bubbled up. I could let characters speak in their own rough voices and I could share my work with the group and hear what resonated with them.
There were no parameters and no critiques. We could write poetry, prose, memoir or screenplay – any style, any genre. Seasoned writers and newbies wrote shoulder to shoulder… and we were all on the same playing field. I can't tell you what those years meant to my writer's soul. I felt reborn.