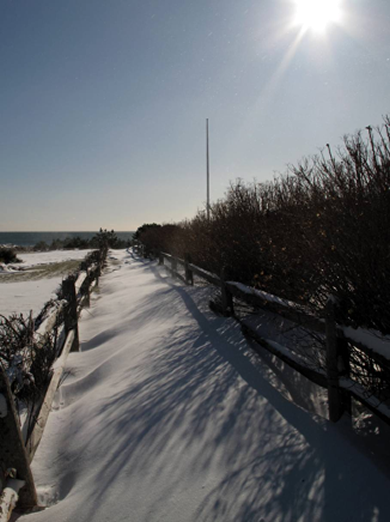 Snow Drift, Photograph by Katie O'Sullivan
Welcome to the Winter issue of CapeWomenOnline, the only magazine for the Women of Cape Cod.
In this issue, we remind you that Winter is a great time to slow down and reflect upon what you truly want from the coming year.
Dorothy Cohen invites you to enjoy the uncluttered roads, woodlands and beaches of the Cape in her Winter Walks on Cape Cod.
Winter is also a great time to check out the Cape's vibrant music scene. Warm up your weekends at the Cape Cod Museum of Art with the great line up of the Music & More series.
Did you promise yourself the gift of meditation this year? Constance Wilkinson addresses a reader's query about how to meditate in a small, busy home in Department of Meditation: Unconditional Engagement.
What makes you happy? Artist Linda Turoczi is Living her Dream every summer In Praise of Simplicity: An Artist and Her RV.
If writing is your passion, check out the Dune Hollow Writers workshops.
As we enter our fifth year of publication we want to thank all our contributing writers, artists and advertisers for their support.
Stay warm, be happy and enjoy this issue!
Nicola, Katie and Jane