Music & More at Cape Cod Museum of Art
The Music & More series at Cape Cod Museum of Art returns for 2012, boasting a great lineup to warm up the weekends this winter.
On Sundays, starting January 8 through February 12 and again from February 26 through March 25, enjoy intimate concerts with musicians from a vast variety of disciplines.
The concerts start at 2:30 p.m. and are slated to include bluegrass, Dixieland jazz, acoustic folk pop, Celtic music, Latin and Brazilian, jazz standards and classical music. Following each performance, join the musicians for conversation and light refreshments.
At the beginning of January, museum patrons enjoyed the Cape Cod Chamber Ensemble on January 8, directed by David Gallagher, playing a presentation of Quintets for Piano and Winds by Mozart and Beethoven.
On January 15, Tripping Lily performed their unique blend of string music with pop sensibilities, mixing cutting edge vocal harmonies with ukulele, mandolin, fiddle and stand-up bass.
Upcoming Concerts Include:
January 22: Gregg Harper
Former CCMA director, now also an acoustic musician on guitar with vocals and harmonica, returns to Dennis for an afternoon of contemporary and traditional music: acoustic, folk, blues jazz roots and Americana.
January 29: Dixie Diehards
Take A Return Trip to New Orleans on Sunday afternoon. The Dixie Diehards returns to CCMA with an afternoon of toe-tapping music from New Orleans of the 1920s and 30s featuring songs such as Alabamy Bound, At the Jazz Band Ball, Ballin the Jack, Melancholy Blues, Shine, Tishomingo Blues, That's a Plenty, Careless Love, Basin Street Blues and a number of others you will recognize as well as a few you might not know.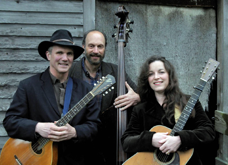 February 5: Toast & Jam
Be entertained with an afternoon of bluegrass and swing. Toast & Jam features Tim Dickey on guitar, mandocello, mandolin, banjo, dobro and vocals; Julie Wanamaker on guitar, ukulele, flute and vocals; and Laird Boles on bass and vocals.
Tim and Julie, singing together since the 1980s, decided in 2007 to make an effort to develop a new repertoire, and started performing as Toast & Jam, with bassist/vocalist Laird Boles, joining them in 2008.