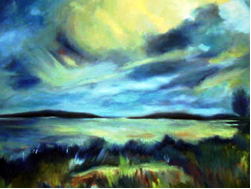 Dreams of Wellfleet Harbor, Oil
Living the Dream
In Praise of Simplicity: An Artist and Her RV
by Linda Turoczi
My first memories of Cape Cod are of sitting on a stone wall along Old King's Highway in Yarmouthport, eating peppermint stick ice cream cones from Hallet's Soda Fountain.
We had arrived at my friend's grandmother's house for summer vacation, lemonade, beaches, the music fair, and sheer delight. It was then that I fell in love with this magical place called Cape Cod.
To return thirty years later to a different Cape town, Wellfleet, but with the same friend, was very special. We had young boys and responsibilities, but still found time to drive by the old house and the wall. It no longer belonged to her grandmother but memories were still there.
We visited Hallet's and took our children for ice cream. It was that summer that I knew I would return to the Cape to paint, to give my son the same joy and freedom I had experienced as a child.
My husband immediately bonded with the Cape. It was a good thing, because for the next twenty years I refused to go anywhere else for my summer vacation. We rented houses in every corner of Wellfleet.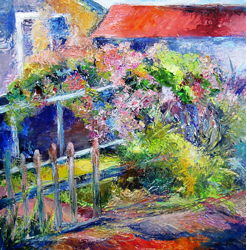 Commercial Street Porch, oil
I painted wherever I happened to be: near ponds, in David's garden, on the streets of Wellfleet, Truro and Provincetown. I was sad to leave each time and always worried that I would not be able to return.
Winters in Pennsylvania were long. I would paint oceans, but not many Pennsylvania landscapes. My fellow artists from Cape Cod would call and keep my dream alive all winter.
Over the years, I found many artists to paint with me en plein air. The vacations flew by. I studied with my good friend and mentor Joan Hopkins Coughlin, of the Golden Cod Gallery in Wellfleet. Joan and I became fast friends in the late 1980's when I first walked into The Golden Cod. As each subsequent summer ended, she would always say to me, "Don't worry. You will be back soon and someday you will have a place."
My love of painting in Wellfleet and the Outer Cape grew. I would paint ponds, old houses and gardens. One particular house was the vacant Pallante House in Wellfleet, which sits near the Wellfleet Historical Society and over the years has become more and more run down. I am drawn to houses.
I remember having a show in Pennsylvania at a beautiful mansion of a retirement home. I filled the rooms with ocean paintings, Cape Cod gardens, landscapes and houses.