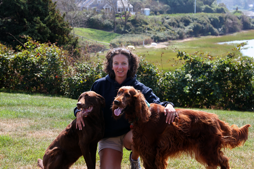 Pet waste can be dangerous as it carries parasites and bacteria that are harmful to both pets and humans. Even in the winter months, the parasites continue to live in the soil.
Thinking of tossing that poop in the woods? Think again. Those same pesky germs can move! They can travel back into your yard through water run-off and a good gust of wind will carry them through the air.
The waste also attracts rodents, flies and other animals that may carry disease onto your property. It's best to get it off the ground and away from your property in a timely fashion.
Aside from just handling the dirty work, Jaime and her employees are trained to observe your pets waste for any abnormalities and notify you immediately of anything that might signal a problem with your dog's health.
Like many entrepreneurs on Cape Cod, Jaime found herself dealing with a very seasonal population while running her SeaMist Event Planning business. She wanted to tap into something lucrative that served the local, year-round population without losing precious time with her family.
One of her biggest challenges has been getting the word out that pet waste removal actually is a business that exists. In addition to word of mouth, Jaime has added a logo on her vehicle and hands out business cards to try and reach out to the community. When asked how business is doing, she smiles and says, "It's Picking Up!"
Her love of animals and the outdoors has made this a perfect fit for Jaime. She has one dog of her own (and happily shares those pick-up duties with her family!) She has donated time with the Animal Rescue League and donates Gift Certificates to local charities.