Wellfleet Women: Del Filardi and Selina Trieff at Cape Cod Museum of Art
Since its founding, the Cape Cod Museum of Art has been collecting the work of important artists associated with Cape Cod, the Islands and Southeastern Massachusetts. The initial impetus for the collection was to acquire and preserve at least one example of the work of each artist of importance to the region.
Over time the museum has had the opportunity to collect the work of selected artists in depth. A new exhibition at the Cape Cod Museum of Art, Wellfleet Women: Del Filardi and Selina Trieff, focuses on two important women artists who reside on the Outer Cape and whose work is immediately identifiable: sculptor Del Filardi and painter Selina Trieff.
The exhibit will be on display from February 25 until March 25.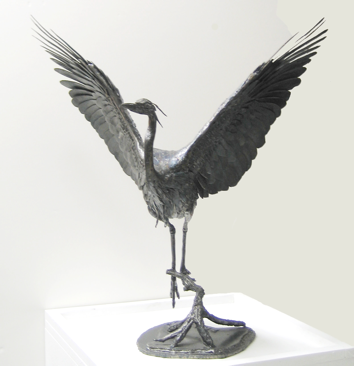 Heron, by Del Filardi. Published courtesy of CCMA
Del Filardi received her B.S. in Health and Physical Education from State Teachers College at Cortland, and a Master's in dance from Columbia University. She went on to use her ability to analyze motion to create and choreograph metal steel into magnificent birds.
From her home overlooking the Pamet River in Truro, she spends much of her time bird watching. Observing the birds' fluid movements, she captures this sense of movement by creating realistic sculptures.
Filardi, former owner of the Blue Heron Gallery in Wellfleet, came to metal sculpture in her intense search for self expression and self fulfillment. She burst forth with her greatest productivity when she found herself mastering the challenge of steel with the welding torch. Early on, many of her works were abstract pieces, large and small. Later, sculpting large species birds proved to be a very exciting career.