Greetings Nicola,
May I share with you a fine reason for CapeWomen to enjoy a proud-chuckle; one of the reasons I chose the Orleans area as my 'new' home was because of your magazine! It was a print version that I'd picked up back then ... and declared to myself ... this is indeed the place for me!
So I thank you for a fine guiding light to your shores!
I do look forward to meeting you one day,
Ginia
Publisher's Note: Thank you, Ginia, for your heartwarming letter! We are honored to have you join our excellent community of Cape Women. This is why our magazine exists…for readers like you, who are inspired to take action in their lives and then share your story with us. I loved your poem and was delighted to publish it in this issue. Follow this link to read WINTER BEACH in our Literary Women Section
Dear Katie,
Thanks so much for the great article about our Northside Art Group and our mission. I can tell you put a lot of time into it and we are all appreciative of your efforts. I am passing it along to people on my email list so that should be good publicity for you as well as for us!
I enjoyed reading everything in the CWO magazine.
Great work by all of you.
Thanks.
Rosanne Francesconi
Please support our advertisers!
Hi, Katie,
Many thanks for your support of poetry on CapeWomenOnline!
Best for the New Year,
Barry Hellman
bmhellman@comcast.net
We love to hear from Cape Women and we appreciate your Feedback about Cape Women Online magazine.
If you have an idea for a story or feature, please email Katie or Nicola.
We are currently accepting articles for future issues. Early submissions are always welcome!
Facebook Post:
Thank you so much for publishing my story Weather Dogs in the Life Stories section of the Holiday 2011 issue; and for featuring my book on the CWO Bookshelf. I'm so grateful for the opportunity you have given me.
Blessings for a safe and happy Holiday season. :)
Kathleen Mueller
Hi Nickey,
What a nice article about Marie Canavas. Years ago I took every class she taught. They were wonderful! I wish I'd thought up the idea about writing about her. If I come up with another possibility should I ask you?
Take care. Have a happy holiday!
Best, Joan Graham
Publisher's Note: Yes! I'm a huge fan of your writing and welcome your submissions.
Hi Katie,
My son baked the Devil Cake and said it was delicious! Here's a photo of the finished product.
Merry Christmas to All at CWO!
Nancy Nicol
www.nancynicolart.com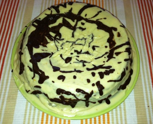 Dear Nicola,
I found your fabulous website, Capewomenonline.com, a few years ago just by chance when searching for Art and Information on Cape Cod. My bond and love of Cape Cod goes way back to long car rides from Pennsylvania to Yarmouthport to visit my friend's grandmother.
I currently spend a lot of time in Wellfleet and Truro, painting and enjoying all the Cape has to offer creative people. I would love to be involved and be featured on your site.
Please let me know what the requirements are and how I can contribute to Capewomenonline magazine.
Best regards,
Linda Turoczi
Publisher's Note: Linda, thank you for connecting with us via our facebook page – your artwork is beautiful. I'm very happy to have you as our Living Her Dream story in our Creative Women section of this issue. I hope to visit you at your RV in Truro this summer…