Events & Programs within the
HyArts District
The Kennedy Legacy Trail
JKF and the Kennedy Family played a significant role in shaping the history of Hyannis. A walking trail within the HyArts District is a new trail set to debut this May. The cultural trail will be comprised of interpretive signs, telephone dial up information and QR codes embedded in the signs, located at significant sites.
The trail is located in the HyArts District, a walkable area downtown Main Street and harbor front, where visitors will experience a range of commercial and cultural activities.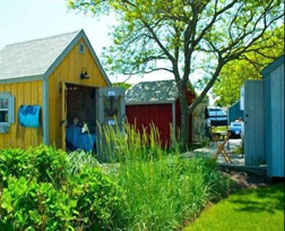 The Artist Shanties at Hyannis Harbor
A variety of entertainers will perform all season long (musicians, magicians, jugglers, living statues, etc). Local artist and naturalist Mary Richmond will also offer fun art and craft activities for the entire family each Thursday afternoon (4-7PM) in July and August.
Local Science Educator, naturalist and artist Allyson Bizer Knox will provide hands on activities in art, nature and science Tuesday's in July. The shanties, which have over 40 artists participating this year, are open Weekends in May and June, seven days a week end of June through end of September.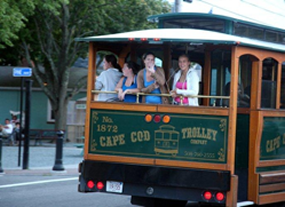 The free summer trolley runs from Main Street to the Harbor Front every day from 11am to 9pm, all summer long!
Sunset Celebrations at Aselton Park
The Cotuit Center for the Arts is partnering with the Town of Barnstable for fun filled evenings with kids art projects, live music, dancing, children's theater, African drumming, free admission to the Maritime Museum from 3:30PM-7:30PM on Friday, July 27 and Friday, August 3.
Aselton Park Free Concert series
Held every Tuesday through July and August, from 6-7:30pm (sponsored by the Arts Foundation of Cape Cod and Citizen's Bank).
Hyannis Harbor Arts Center at Guyer Barn
Located at 250 South Street, Hyannis, come to the Barn every 2nd Sunday for the Artist Salons (open mic night). Exhibits, workshops and performances are scheduled year round. The barn is open late on Thursday evenings for music.
Meet Artists at Work
Sarah Holl's Art Space at 46 Pearl Street
Artist work studios at 50 Pearl Street
For more information about any of these events please visit www.hyartsdistrict.com