The Ease of Living with Solar
by Jane Dressel Schaller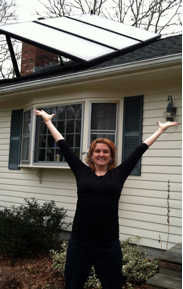 Diane Kovanda loves her
limitless hot water
Sustainable energy is Occupying Cape Cod. Our prominent peninsula not only stands out geographically, but also leads the way environmentally. While many talk the solar power talk, others walk their own solar power walk.
Owner/Teacher of Kind Yoga School and mastermind of the current Yoga Everywhere project, Diane Kovanda and husband, Jack Adams, chose to install a solar hot water system in their modest Centerville home eight years ago.
Also featured in this article is Patricia Fater: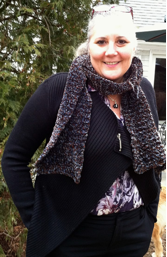 Patricia Fater enjoys the
efficiency of Solar
Eight years ago Patricia Fater, a family practitioner and owner of Complete Wellness in Cotuit, and her family chose to do their part by having both a system that produces electricity and a solar hot water system.
Having their own solar system "seemed like a practical thing to do as well as a good thing to do and feasible due to rebates," Dr. Fater reflects.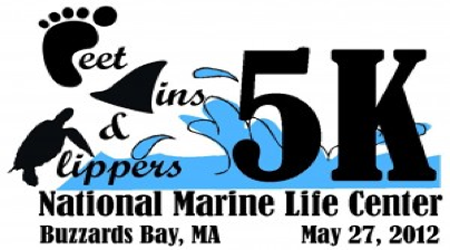 9 am Buzzards Bay Park, Main Street, Buzzards Bay
Use your feet to help our finned and flippered friends!
For more details visit: www.nmlc.org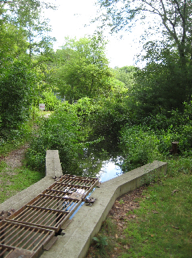 Helping the Endangered Herring Run
by Jaci Barton, Executive Director, Barnstable Land Trust
The annual herring migration is a natural wonder. For centuries, people have watched in awe as hundreds of thousands of herring migrated from the ocean upstream to spawn in freshwater ponds, drawn by some unseen force of nature.
Today, the once plentiful river herring are being considered for listing under the Endangered Species Act. The dramatic decline in the herring population has many wondering if this is a specter of things to come.
Could river herring be the aquatic equivalent of the "canary in a coal mine"?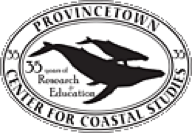 EARTH DAY TRASH-A-THON!
April 20 9:00AM - 11:00AM
April 21 10:00AM – 4:00PM
A ten mile, two-day beach clean up from Herring Cove to MacMillan Pier!
The Goal? To collect a ton of trash!
Meet at Herring Cove parking lot.
For information contact Jesse at
508-487-3623 x 103
or email
jmechling@coastalstudies.org
Fun Springtime Events at the National Marine Life Center
Wondering what to do with these gorgeous Spring days? Check out some of the following fun events hosted by the National Marine Life Center. In addition to having a great time, you may just learn a thing or two about your local marine environment!
April Vacation Week Events
Little Flippers Club
Story Time, Arts & Crafts
April 16 – April 20
1:00 – 2:00 p.m.
The National Marine Life Center
120 Main Street, Buzzards Bay
Marine Animal Medical Mystery
April 16 – April 20
11:00 a.m. – 12:00 p.m.
The National Marine Life Center
120 Main Street, Buzzards Bay
"BAG IT" Documentary Film Screening
Saturday, April 21
Massachusetts Maritime Academy
101 Academy Drive, Buzzards Bay
Feet, Fins & Flippers 5K
Sunday, May 27, 2012, 9 am
Buzzards Bay Park
Main Street, Buzzards Bay
Use your feet to help our finned and flippered friends! Join runners, walkers, and animal-lovers in a 5K run/walk to raise money for the National Marine Life Center! This is a family oriented event.

<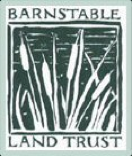 For more information about how to "Help the Herring Run" and other land-saving initiatives, or to learn about membership, events and volunteer opportunities, contact Barnstable Land Trust at:
BLT@cape.com
visit www.BLT.org
or call 508-771-2585
Wellfleet Bay Wildlife Sanctuary
Bird-a-thon 2012 – May 11 & 12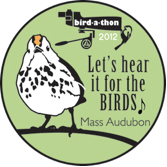 Get your binoculars ready! Bird-a-thon, our annual fundraiser where teams of birders spend 24 hours trying to spot the most species in Massachusetts, will kick off a 6 pm on May 11.
291 State Highway, Route 6
South Wellfleet, MA 02663
508-349-2615 www.massaudubon.com