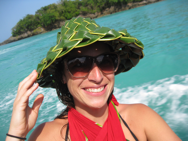 The Winter Unplug
by Jen Villa
Living on Cape Cod is wonderful. As a year-round resident and small business owner, I love the Cape. I love all the activities the warm months bring; I love the business the summer months bring, despite the traffic that comes along with it.
I also love the Cape in the off-season: a secluded beach to yourself, the epic winter sunsets, and more time to connect with other locals. But, like any sane person, I like to get away for a little "Winter Blues" getaway. As a business owner who spends most of the year working seven days a week, a little vacation is a MUST.
This year I decided to take a few weeks off during the short but feisty month of February. The first half of the trip would be sun, surf and adventure in the Dominican Republic, and the latter would be spent in Southern California visiting friends and towns from my pre-Cape Cod days.
The trip was scheduled to "recharge my batteries," although I wasn't sure exactly what that meant. I only knew I had to get away from the shop and break my daily routine to get fresh ideas, and so I could come back energetic and enthusiastic.

Share your Life Story with Us
This magazine is your venue to share your life's journey; a place to inspire and connect with Cape Women.
If you have a story you'd like to see published here then we'd love to hear from you!
The Leap over the Canal
by Devon Ellington
As soon as I cross the Sagamore Bridge onto the Cape, I know I'm home.
I felt that way for years before I actually moved here. I can barely remember a time I didn't want to live here.
I believe we can have strong connections to certain places, and the Cape was a place I felt I belonged for many years. But it's a long commute to Broadway, and while I worked on Broadway, I had to live near enough to commute. Eight shows a week /nights/weekends/holidays means one has to live a reasonable travel distance.
I finally hit a point, working two full-time jobs (theatre and writing) where I felt like I had a Volkswagen strapped to each foot, barreling down the highway, and they were about to take different exits. I had to make a decision.
I chose writing.
I chose the Cape.

Party, Pluck & Pins to
Prop Me Up
by Saralee Perel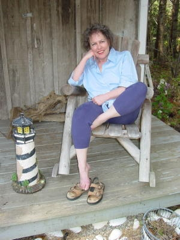 I didn't know what to wear to the first publication party I'd ever been invited to. It was in honor of the very beginnings of Cape Women Magazine. (Editor's note: This was before CWO went digital, when Cape Women was a print magazine.)
I don't get out much. The straps on the one bra I own are so stretched out family members compare me to my grandma - whose chest eventually ended up around her waist.
I was an anxious wreck. The magazine is very elegant. I write funny articles in it. The editors are mature and sophisticated, but somehow they let me in.
All week prior, I flailed through my closet. Half the things were Woodstock-fringed and beaded. "What's in style?" I asked my husband, Bob.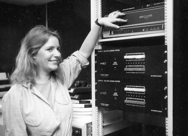 Ahead of Our Time
by K.S. Mueller
I was 24 years old when I met my significant other. We started dating online. In 1985.
He owned the travel company where I worked, the now defunct "American Leadership Study Groups," a student group tour company – you know, the French teacher takes thirty 16-year-olds to France for a week of study. Not your Natalie Holloway-party-till-you-drop tours… we operated real study tours for serious kids, no nonsense.

First Light of Cape Cod

Stop Talking About Writing
A Book – Just Write It!
Click here for class details
Or email firstlight@capecod.net