Heartful Giving
by Kathryn Kleekamp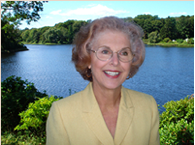 Like a fine work of art that reveals more and more upon closer inspection, a look at Sandwich Artisans divulges a most intriguing group.
Taking over the reins of what was originally known as The Sandwich Arts and Crafts Association, Sandwich Artisans carry on a tradition that has been going on for or over 60 years.
Bearing the torch well, the local group was chosen as the "2011 Business of the Year" by the Sandwich Chamber of Commerce. A primary reason being that all vendor fees are dedicated to the Sandwich Public Library for youth and children art programming. Last year the group donated $6,000.
A volunteer board consisting of seven individuals organizes several juried outdoor shows during the summer months on the lawns of the Sandwich Public Library.
Local artisans including jewelers, woodworkers, fine artists, glassmakers, calligraphers, potters, photographers and fabric artists – just a small sampling of the 25 or so vendors who participate in each show.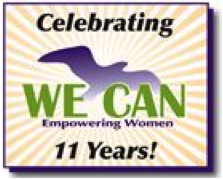 Women to Women… Resources with an Empowerment Approach
Thursday, May 3, from 2 to 4 pm
by Nicola Burnell
If you haven't accessed the resources of Cape Cod's HOW, WE CAN, and Independence House, you probably know somebody who has. As a former client of a couple of these organizations myself, I can honestly say that they can be life savers when you need their support the most.
The Women to Women discussion, sponsored by Seashore Point, in Provincetown, will feature representatives from each of these organizations, providing a fantastic opportunity for women on Cape Cod to discover just how much support, education and networking is available to them, RIGHT NOW.
This is not a lecture, it is a conversation held in a safe and open forum that will focus on issues that arise in the day to day lives of women. If you aren't sure how these organizations can help you, then this is your chance to ask questions.
If you have already accessed these resources and want to share your experiences, then join us! The goal of this event is to inform, inspire and reach out to women who may be feeling disconnected or unsure of their options.
Working with WE CAN and Independence House on this event, we hope to inform participants about resources, while we learn from them what we can do to help them respond to their challenges," explains Irene Rabinowitz, Executive Director of HOW.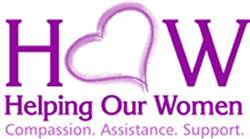 GATE: Global Alliance for Transformational Entertainment
New Entertainment & Media Values for a New World
by Kathy O'Keefe Kanavos
"Only a New Seed Will Yield a New Crop."
This phrase was the repeated motto for GATE II, held in California on February 4th. The star-studded event had one goal: planting thoughts of enlightenment in the global mind of the entertainment industry.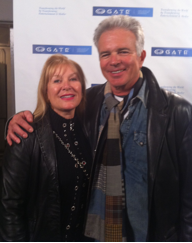 Kathy Kanavos with actor Tony Denison at Gate II
GATE is a major venue for networking between industry people and movie stars like GATE hosts and founders actor/activist Jim Carrey, author/spiritual leader Eckhart Tolle and media professional John Raatz. Comedian Louie Anderson introduced the various speakers and played Master of Ceremonies for the event.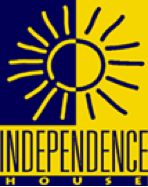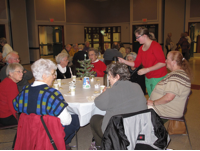 Scouting across Generations
by Girl Scout Troop 80847
"They just didn't want to have one more meal alone."
The Harwich Council on Aging Supper Club is a bi-monthly event that allows single senior citizens to enjoy a family-style meal and interact with their peers in the community. These dinners were started to help prevent the risings rates of depression and loneliness in single elderly people.
The program began with seven people, and after four years it has increased to an average of 30 diners per meal, with a record high of 42 participants.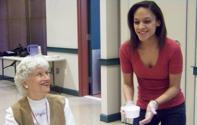 Student volunteers serve dinner, to allow the seniors to interact with the youth of Harwich. Currently the two groups of volunteers that serve dinner at Supper Club include members of the Cape Cod Bible Alliance Church youth group and Harwich Girl Scout Troop 80847.