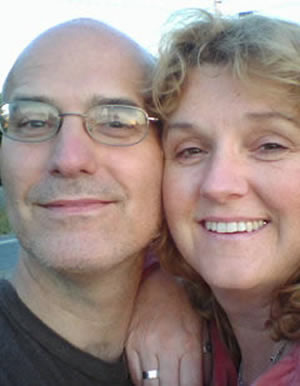 Jack and Diane
Jack Adams, PhD (Electrical and Computer Engineering) answers a few questions
about living with solar
What was your motivation for getting the solar panel eight years ago?
I'm an electrical engineer, and teach at Merrimack College in Andover. I've had a strong interest in renewable energy for years now. My primary motivation is to have a positive impact on the environment through use of appropriate technology.
I'm also interested in approaches that not only impact the environment but do so while saving money. There are two main types of solar panels - ones that produce electricity and ones producing hot water.
Due to much lower costs, and shading issues, we chose a solar hot water system for our home. Our system went on line in December of 2007. After all rebates, we had a fully functioning system, with a gorgeous, lifetime warranted stainless steel water tank, for about $4,400.
How did the "fantasy" of having solar compare with reality?
I was immediately impressed that, even in January, we saw significant heat in our hot water tank. The roof collector read 170 degrees when it was 20 degrees and sunny on January 2! Basically, the solar panel acts like a very effective, miniature greenhouse, and the greenhouse heat is transferred to the hot water. Because we're a family of two, and already fairly frugal, we didn't see huge savings - our payback time might be 10 years. We didn't save as much as we anticipated, although we're saving and have no regrets about having purchased the system.
Compare your professional views with personal ones about the reality of solar.
As an electrical engineer, I find the continual improvements and ongoing price reductions associated with solar technology very exciting. Solar engineers and manufacturers intend that solar power compete directly with "fossil" fuels such as coal, oil, and natural gas.
Solar is already quite reliable, and as prices fall the total number of installations will increase quite a bit across the U.S. On the whole, solar cannot provide all of our power, and other issues, such as being much more efficient, are crucial. Personally, my view is that solar is already competitive if we consider the negative environmental impacts of burning coal and place a value on avoiding pollution.
Would you recommend it to others?
The incentives for solar hot water are still great, at least in Massachusetts, so solar hot water is a great option for someone with a roof facing within 30 degrees of due south, and that doesn't have much shading. A family of four would see a much quicker payback than we will - perhaps 5-7 years.
If you have an unshaded roof, or nearly so, which faces close to due south, then solar electric can be a great option. Someone with a typical system might realize $3,000 per year in savings and rebates.
Because of the positive impact on the environment, and the cash savings, I strongly recommend solar electric. There are many installers, and I'd get quotes from at least two before deciding. They will gladly come, check out your building, and provide a quote if in fact solar is an option for you. A good installer will help you with a whole home plan, including taking energy efficiency actions.