The Winter Unplug
by Jen Villa
Living on Cape Cod is wonderful. As a year-round resident and small business owner, I love the Cape. I love all the activities the warm months bring; I love the business the summer months bring, despite the traffic that comes along with it.
I also love the Cape in the off-season: a secluded beach to yourself, the epic winter sunsets, and more time to connect with other locals. But, like any sane person, I like to get away for a little "Winter Blues" getaway. As a business owner who spends most of the year working seven days a week, a little vacation is a MUST.
This year I decided to take a few weeks off during the short but feisty month of February. The first half of the trip would be sun, surf and adventure in the Dominican Republic, and the latter would be spent in Southern California visiting friends and towns from my pre-Cape Cod days.
The trip was scheduled to "recharge my batteries," although I wasn't sure exactly what that meant. I only knew I had to get away from the shop and break my daily routine to get fresh ideas, and so I could come back energetic and enthusiastic.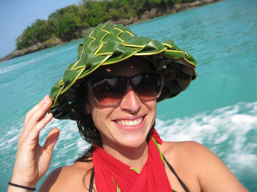 Boat Ride from Las Galeras to Playa Rincon
I arrived at my island digs in the Dominican Republic very late the first night. I had decided to make no plans or arrangements to use my phone while there and brought no laptop. I woke up the first morning and was officially "unplugged."
I have to admit, during the first couple days of my trip I experienced what I'm cleverly naming "communication withdrawal." I'm sure this has been discussed and written about, and perhaps officially coined something, but this was my first taste of it.
I had to relearn how to be quiet with myself and not distracted. It was a fascinating experiment.
After the initial symptoms passed, which literally included minor anxiety attacks and some serious internal banter that could drive a girl crazy, I embraced it. It felt so good to regulate my day with casual patterns of sleep, wake, eat, beach, read, eat, snooze, read, eat, sleep, REPEAT. I had to learn had to entertain myself.
During my "unplugged" experiment, I was somewhat shocked at how addicted I had become to being "plugged in." I actually consider myself somewhat technologically old school. I listen to vinyl, I don't use an iPod, I only use a computer at work, my world is not synched in… but apparently I'm still hooked.
I can only imagine what skills our younger generations are lacking in terms of making use of their time without the aid of technology.