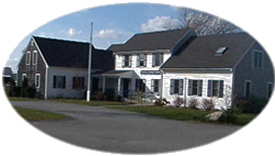 Chatham Council on Aging:
A "Center Of Activity"
by Katharine Dalton
Take a ride up Stony Hill Road in Chatham – if you're not familiar with it, it runs from Crowell Road to Orleans Road – and you'll find a large building on the left-hand side painted white with blue shutters. This is the Chatham Senior Center, home of the Council on Aging (COA). The building exudes a feeling of calm solidity but inside is a scene of much activity.
I've been working at the COA since November 22, 2002 (my mother's birthday). My responsibilities are to produce The Flash, our monthly newsletter, and work as a receptionist each afternoon.
I enjoy talking to the visitors because at a certain age, it seems to me, it becomes easier to speak your mind, especially in a jocular way. One sweet old lady told me, when I admired her cane, "I don't know where I got it."
"And," she continued, "I have two more at home and I don't know where they came from either. Maybe I'm a kleptomaniac," she said laughing.
Then there was the woman who mentioned that she no longer had an escort since her husband passed away. I said I was in the same boat. "Well," she said, "if I come across one, I'll give you a call." It was nice that she was willing to share.
At the Senior Center, an elevator services the three floors. On the street level, you'll find a dining room/meeting room, kitchen with complimentary coffee and tea, a sitting room with the day's local newspapers and a variety of magazines, a reception area and staff offices.
Upstairs we have a lending library, computer school, more offices, a room with greeting cards for sale, and another sitting room. On the lower level, exercise classes are held, along with a monthly movie, and various group meetings.
In a typical week, seniors can take an exercise class, have lunch, join the Thursday afternoon knitting group and enjoy a friendly game of bridge or Scrabble. We have free hearing tests each week as well as a free blood pressure clinic.
Our free Van Service will take Chatham residents to local errands, grocery shopping, and doctor's appointments. Our van can accept wheelchairs and comes with a lift.