A Day in the Life …of a Zen Garden
by Jackie O'Hara
In June I was inspired to create a Zen Garden in my backyard after reading "Hand Wash Cold" by Karen Maezen Miller. Her down-to-earth writing about her Japanese gardens opened my mind to the beauty of the tasks of daily life, whether it be laundry, dishes and of course - the garden.
The traditional Zen landscape is a dry stone garden, and typically has the elements of loose stone which can be raked into flowing designs, rocks, spare mossy plants and the suggestion of water.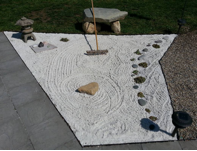 There should be a seat nearby, because Zen gardens are meant to be an aid to meditation and art. The creative and spiritual placement of objects can be representative of nature and a metaphor of the journey of life.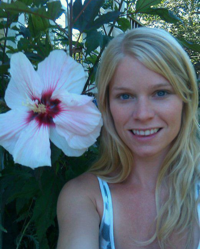 Closing Time
by Grace Finch
As we approach the end of this busy season, I look forward to putting the gardens I tend to rest and watching nature's transition into fall.
This summer has been the most humid one that I can remember and as a full time gardener it has been extremely difficult to work in the heat.
There are ten separate gardens that I tend to, every week, and several days I am working in multiple gardens for three or four hours each. Sometimes in the peak season (June-July) I will work in three gardens in one day.

Barefoot
I went barefoot today though the summer has ended
I went out to play 'neath the sunshine so splendid.
My child, how it smiled and shed its clothes and felt the sand beneath its toes.
The air felt as soft as a silken gown, and carried aloft the slightest frown.
The water bid me welcome here, it spared bare soles that wandered near.
And once inside its soothing care another soul emerged from there.
I went barefoot today and will fondly remember this beautiful day in mid-September.
By Dusty Finch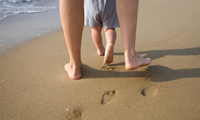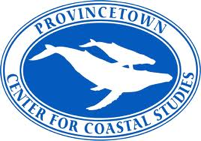 Full Moon Hike
September 28
6:30-8:30pm
Ever wanted to see the moon rise over the highest dunes on Cape Cod?
Join Center naturalists for a full moon walk and dune exploration and learn more about the natural history of this iconic landscape.
Meet at Snail Road. Reservations required. Contact PCCS for details and registration at (508) 487-3623 x103.
Free, donations always welcome.
Click here for Events Calendar
www.coastalstudies.org