Travelling Companions Create Art
Reflections on a Journey Through the Artist's Way
by Nicola Burnell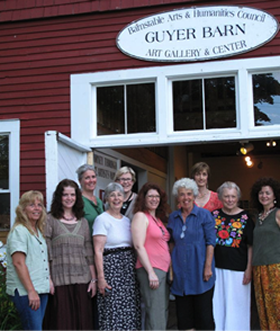 In July of this year, I was honored to co-curate an exhibit at the Guyer Barn validating my conviction that The Artist's Way, by Julia Cameron, is a book that changes lives. This exhibit illustrated the process experienced by several students who recently completed a twelve-week course with me.
The artwork on display explored the various aspects of this dynamic program designed to help the students discover and recover their Creative Selves. Samples of their artwork, photography, poetry and other musings captured the essence of this liberating journey.
"Why did I join the Artist's Way group?" asks artist and innkeeper, Diane Johnson. "I felt stuck in one place with my art. Then I realized I was stuck in life, not filled with my usual enthusiasm and motivation. When I would wake in the morning I felt a dark cloud hanging over me and to get through it I would get right out of bed and into the morning routine. Did the Artist's Way help me? YES!!! It was amazing. I am so thankful I made the commitment."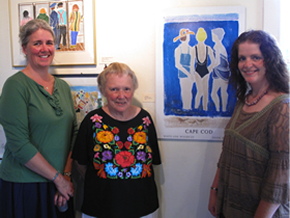 Artists Barbara Hersey and Diane Johnson
with Nicola in front of Diane's white line block prints.
Seeing their artwork on the walls, while understanding what it took for each student to create it, was one of the most satisfying experiences of my career as a teacher. My sentiments were echoed by many who attended the opening reception.
Artist Suzanne M. Packer shared this on our Facebook page: "I have never seen the Guyer Barn looking so good. The show was awesome and definitely not your typical Cape Cod painting show. What creativity has come from these women."
The Journey begins with curiosity and courage.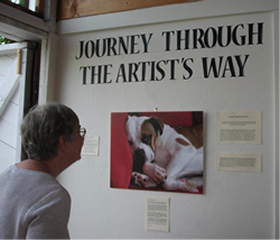 Photograph by Joan Johnston Stone
One major misconception about The Artist's Way is that it's a program for artists – it's not! It is a process that can liberate anyone who feels stuck or in need of change in their life. It teaches the "art of creative living" by nudging students to examine what drives and inspires them.
"When I signed up to take the workshop, last spring, I really had no idea what it was," reflects Debbie Hagen. "Was I surprised to find that my hidden and blocked creativity would blossom and grow in just twelve weeks."
There is a sense of growth and movement experienced by many students who consciously open up to their own potential as creative beings. They show faith in their creativity and take creative risks, which in turn lead to creative empowerment.
Like all of the students who take this journey, Debbie embraced the non-negotiable "Basic Tools": the daily Morning Pages, weekly Artist's Date and Tasks that are listed at the end of each chapter. The exhibit showcased the students' responses to these tools, while also highlighting their resistance and epiphanies.
The Morning Pages are three pages of stream-of-consciousness writing, everyday, no matter how grumpy, distracted or tired one feels. This process taught the students how to silence their internal critic, or "censor," that often crushes creativity before it has a chance to grow. Through this dialogue with their creative self, they slowly discovered what drains and what drives them.