A New Conversation Workshop
for
Personal Growth & Well-Being
This 2-Day Intensive, personal growth workshop invites you to hold "A New Conversation" with yourself to gain a deeper understanding and spiritual sense of your place in the world.
You will engage in Creative Exercises that tap into the power of the sub-conscious mind to discover your hidden potential. Be exposed to thought-provoking lectures and cutting-edge theories about quantum physics and consciousness that stimulate Thinking Outside the Box. Have fun in an innovative non-judgmental atmosphere of creativity; make new discoveries about yourself, and learn how to set goals using NLP (Neurolinguistic Programming).
What's Included
Creative Exercises
Deep Relaxation, Guided Meditation, and Creative Visualization Exercises, Art & Writing Exercises, NLP (Neurolinguistic Programming)
Thought-Provoking Discussions
Quantum Activists Bridging Spirituality with Science; The Mind-Body Connection, The Importance of Cultivating Thoughts, The Subconscious vs. Conscious Mind, How & When Beliefs Get Established, How You Create Your Own Reality, Programmable Mind States, Stress Management, the Effects of Meditation, Intention and Prayer … and More!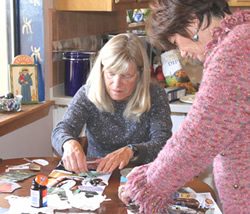 Transpersonal Art Exercise
---
COST $250.00 Early Bird Registration $225.00
LOCATION The Barn at First Parish Church Brewster
1 Harwich Rd, Brewster MA 02631
* Park across the street from the church and
follow the driveway to parking lot and walk to Barn.
DATES / TIME Choose 1 weekend
Sep 22 (9:00am-6:00pm) & Sept 23 (11:00am-6:00pm)
or
Sept 29 (9:00am-6:00pm) & Sept 30 (11:00am-6:00pm)
WHAT to BRING * Yoga Mat and Blanket for Deep Relaxation Exercises
* Food for Snacks, Lunch
* 1 Water Bottle for an Art Exercise