Like ripples, the day-to-day stuff of life invades our living, disrupts our stillness, our symmetry. Like the streams and byways that join the lake, we too have streams and byways that are part of us, making us whole. They do not cease.
Our peace, our steadiness, is no more lost than the lake's. Like the lake, when we know the parts that make us whole and take the time to re-gather our calm, our flow, it allows serenity to return, and we can then feel our equilibrium.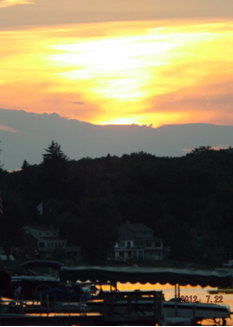 Living Whole will explore, how:
Knowing what one values makes one whole.
To gain fulfillment in one's wants and goals.
The vibrations of one's energy ripple and smooth.
Slowing down allows one's balance to return.
Living Whole will share how you, like the lake, can sustain your balance, become still, and be your own reflection of eternity.
What is Your Question of Balance?
"Time, there is no time in the day for ME. There is always something to do. Where do I get the time to gain balance?" Suzie from Mashpee
Charles Bruxton said, "You will never 'find' time for anything. If you want time, you must make it." You are in control; there is no one else at the wheel.
Every minute of every day, we choose how to use the hours that are given us. Over the years the choices we make become rote. Business meetings, laundry, daycare, etc. We move into unconscious living and fill our time with to do's we are unaware of.
Just as these habitual to do's came into our living, originally as a conscious choice, so too is their leaving and the time we give to these items.
The first thing one needs to do to gain ME time is to want the time, and then to choose to include ME time into one's day. As did the to do's you now have, begin small.
Begin with five minutes early in the day before the to do's take over. FIVE MINUTES and something for yourself, i.e. read some poetry, do your nails, listen to a favorite song. Whatever, it must be something for you alone. Do this for seven days.
On the eighth day, move to ten minutes for seven days. Then on the eighth day move to fifteen minutes. Do this weekly until you have reached thirty minutes of ME time.
That's it. Enjoy the minutes.
Do you have a question on how to sustain your balance? How to live whole?
Email your questions to balance@maggiefrenchcpc.com and together let's search for an answer.
All Photographs Courtesy of Maggie French