The rest of Fit N Run's equipment went up for auction on a day I was traveling for work. My parents went to the auction with the intention to get what I needed, and so had many other people. At one point, my dad was having a bidding war with someone, and when he turned around to the woman he said, "I am here for my daughter Tracey!"
She replied, "Tracey Crowell? Well, so am I!" Others chimed in, "So are we!" And all the equipment was purchased on that day for the studio, without me even being there.
Within a month, we had set a date for a Saturday to paint and everyone came to help. We began teaching a few classes on April 27, with a song and a prayer, and a boom box for music, many times teaching to ourselves or to one or two people.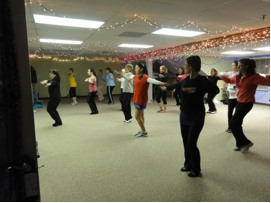 Students enjoying Tracey's Masjah Dance
Slowly the people came, often just wandering in like weary travelers, looking for a place to land. By May, we had a schedule and a sign!
Alex donated the stereo system, the microphone, and wired all the speakers. He purchased the door and the air conditioners. A member donated the blinds.
The studio became a bridge of sorts, between the worlds of fitness and hard core workouts and spiritual practices. The space lends itself to a wide variety of classes and workshops, and is growing – we even have a few awesome males!
Masjah Studio supports the new paradigm of collaboration and unity, while honoring individual gifts. It invites each person to discover and open to their authentic self.
This fall, Masjah Studios is entering another gateway into an expanded vision. With the shift in consciousness, new clients and practitioners are now finding the magic of Masjah and committing to help expand this amazing community with new classes, events, modalities (Reiki, massage, psychotherapy, nature programs, etc.) and events that serve to support each other and enhance one another's visions going forward.
Today, as in the beginning, everyone chips in. If something is lacking, someone provides it, as if elves come in during the night. The gym wipes are supplied, the waters are placed in the fridge and tissue boxes magically appear.
There is support, compassion and acceptance here. There is caring and community. And there is inspiration and love.
Masjah: Movement Awareness, Strength, Joy and Health, came from one of my daughters. She called me Masjah one day on the phone and I exclaimed "Masjah? How do you spell that? What does it mean?"
"It means everything, Mom. It means everything about you. It means mother and mother earth. It means loving and caring and protecting. It means always moving, always supporting, always growing."
Masjah is the Mom inside each and every one of us - the awakening goddess, the open heart, the strength of spirit.
It is Flow.
It is Creation.
For me, it is Gratitude.
Thank you, Masjah.