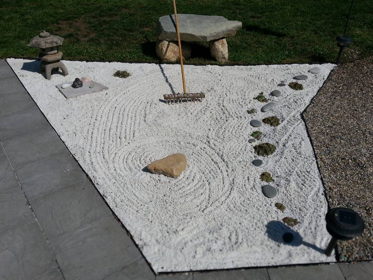 A Day in the Life …of a Zen Garden
by Jackie O'Hara
In June I was inspired to create a Zen Garden in my backyard after reading "Hand Wash Cold" by Karen Maezen Miller. Her down-to-earth writing about her Japanese gardens opened my mind to the beauty of the tasks of daily life, whether it be laundry, dishes and of course - the garden.
The traditional Zen landscape is a dry stone garden, and typically has the elements of loose stone which can be raked into flowing designs, rocks, spare mossy plants and the suggestion of water.
There should be a seat nearby, because Zen gardens are meant to be an aid to meditation and art. The creative and spiritual placement of objects can be representative of nature and a metaphor of the journey of life.
For example, there may be a rock or "mountain" which is an obstacle or challenge. There may be stepping stones or a "bridge" to imply a pathway…and the stones can be raked to create an image of water with its dynamic or peaceful flow of energy.
I used a base of white sand, hung a hummingbird feeder over the garden for a water element, placed a Japanese garden lantern for the element of fire, and planted some sedum to represent the pathway. At this point my garden looked great but I was missing two things - an "obstacle rock" and the necessary Zen garden rake.
I had to laugh when I Googled Zen Rakes and saw hundreds on sale for under ten dollars. At closer look I realized they were for tabletop Zen gardens, a popular trend. The larger rakes cost hundreds and were out of my range. Then after more research I found out that real Zen gardeners make their own rakes.
Oh boy… I was sensing more of a commitment than I thought I could keep.
In the two months since I created my Zen garden, I have come to see its true purpose.
One of the most interesting things I found in my research is the Japanese concept of Wabi-sabi, which means: nothing lasts, nothing is perfect, and nothing is finished.
Once understood, one begins to know that true beauty is found in transience, imperfection and asymmetry. It's the blend of rough and smooth, light and dark, in the garden and in life. The twists and turns. It really is symbolic of life.
Here are some of my reflections…
Within hours of "finishing" the garden, I sat with a nice cup of tea and admired it. Suddenly, my large dog spied a large squirrel at the bird feeder and took off at breakneck speed, right through the perfect Zen garden sand. My first lesson: impermanence.