Most moving were the war memorials, easily visible from the ship. One was carved out of the mountain with the words, lit up at night: "DUR YOLCU" — "Stop wayfarer !" I later found they were from a poem written about this area, which had seen much warfare and conflict going as far back as the days of Troy:
Stop Wayfarer! Unbeknownst to you this ground
You come and tread on, is where an epoch lies;
Bend down and lend your ear, for this silent mound
Is the place where the heart of a nation sighs.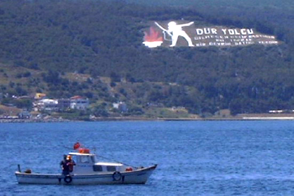 Gallipoli War Memorial
The focal point of the trip was a visit to Ephesus, the second largest city of the Roman Empire and home of St. Paul. Tradition has it that he brought the Virgin Mary to spend her last days here, and Wayne Dyer was to address us at the Virgin Mary's House, now a religious shrine.
The logistics of getting all 350 of us in 10 coaches up to that beautiful spot on the coast of western Turkey was a challenge, but we did it, we all got there – the young and the old, the fit and the infirm, people of all colors and races and religious backgrounds, for just one hour with Wayne Dyer in this holy place.
By now, I had picked up the sense from other cruise passengers that they were somewhat disappointed in his lectures, that they had expected more from him. On TV, he seemed more polished, here he had rambled a bit, reminiscing about key events in his life which were obviously still fresh in his mind from spending the summer writing his latest book, "I Can See Clearly Now." From his description of the book, it appears to be some kind of end-of-life review, and when in the last two lectures he invited his daughter Serena to join him on stage, it seemed as if he might be preparing to pass the baton to the next generation.
On this much anticipated day, there was a hum of excited expectation amongst the crowd, and after we were all settled, Wayne announced that he would read us poetry by Rumi, a 13th-century Persian poet whose day of birth was this day, September 30th.
"Sell your cleverness and purchase bewilderment," he read from Rumi's writings, "and be in a state of gratitude for everything that happens in our life." Rumi spoke about having no country and no religion, he told us, about "living in the now"' and having no "longing for the past." A red squirrel scampered up an olive tree and ran across a larch branch high above him as he spoke.
As the precious minutes went by, the crowd seemed to be getting restless. I heard a few grumblings of, "We could have read Rumi at home by ourselves…" but to say it was a let-down would be missing the point. Just being here, being part of the group that he had gathered around him in this tranquil spot, was in itself a blessing.
Still, I knew that the crowd was hoping for something more from this man, this mortal who was expected to perform and inspire and even change people's lives. I had learned this myself on a previous cruise with Wayne Dyer and a host of other inspirational speakers; in reality, it was the whole experience and being part of a special group of people that made it a truly memorable trip, not the words of a single person.