Cape & Islands Green Initiative
by Amanda Converse
As Cape Codders, we can't go a day without hearing about the environmental issues that affect Cape Cod: wastewater, nitogen loading, pesticide spraying, and solid waste management.
It is hard to not be overwhelmed by all of the information we hear, and it is even harder to know what we can do as residents and as business owners to address these issues.
The Cape & Islands Green initiative began in 2008 as a joint effort of the Cape Cod Chamber of Commerce, a few local Chambers and members of the business community to help Cape and Islands businesses to do just that – work together to "go green."
Cape & Islands Green aims to educate and encourage people in their places of work, study and worship to engage in best practices that will reduce our collective impact on the natural environment.
In addition, it's been proven again and again that when you use resources efficiently, you reduce operating costs, which in turn increases your business' competetive advantage. You attract employees that are more engaged in your business, as well as show the Cape Cod community that you are a leader.

Taking the Time
by Katie O'Sullivan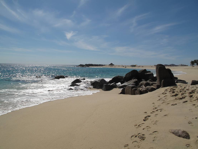 It may sound crazy, but this winter I traveled 3,330 miles just to sit on a beach.
Let me explain.
While I live on Cape Cod, surrounded all year long by an abundance of beaches, I hardly ever take the time to actually appreciate the natural beauty of the scenery.
To just sit on a beach chair and listen to the rhythm of the waves. To breathe in the salt-scented air and appreciate the dance of the seagulls whirling overhead.
I frequently walk on the beach near my house, marching along the sand in the early morning as the dogs frolic in the surf and chase gulls. When the kids were younger, I'd load up the wagon and schlep the sand toys and towels and snacks and water bottles and sunscreen to watch them build castles and catch crabs along the base of the jetty.

To Every Thing There
Is a Season
Poem by Kim M. Baker
Like Great Aunt Jovenella, Winter wraps herself around me,

pinches my cheeks in that warm Italian gesture of love,

and leans her big-bosomed hug into my face,

winding me with the force of her lusty embrace,

folding me into the harbor of her.

---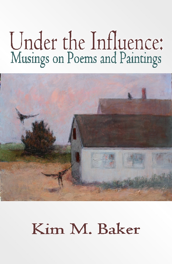 Kim Baker's first chapbook of poetry, Under the Influence: Musings about Poems and Paintings, is forthcoming in 2013 from Finishing Line Press.
Book ships March 9, 2013

535 South Street
Hyannis, MA 02601
508.775.2652
Wednesday-Saturday 11-6
Sunday 12-4