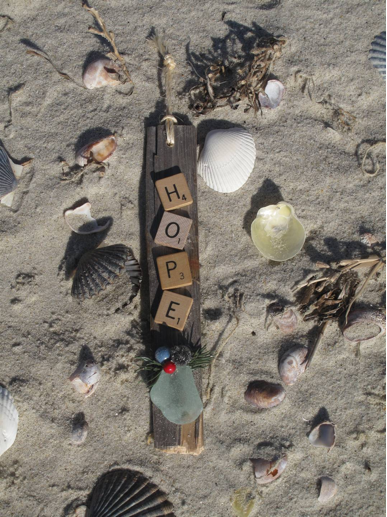 Shifting Tides, Photograph by Katie O'Sullivan,
Ornament by Cathy Clare
Welcome to the Holiday issue of CapeWomenOnline, the only magazine for the Women of Cape Cod.
In this issue we highlight the importance of community. Not just because this is the Holiday season, when we are traditionally more conscious of others, but because we have come to the end of a tumultuous year that has left so many people feeling vulnerable.
Our mission for this magazine has always been to inspire you, encourage you to work through challenges and share your stories. This issue contains articles of hope that reflect the strength and courage of Cape Women.
One of my favorite memories from last year was when I attended the Special Memorial Service for Cape Cod's homeless who died in 2011. This year we have already lost 15 people. Hannah Depin, a DY Junior, has written an inspiring article about the Homeless Not Hopeless program that may motivate you to attend this year's Memorial Service on December 21st.
Jitka Borowick, owner of Cleangreen, is living her dream after she moved from the Czech Republic to Cape Cod. Our Working Women section celebrates the importance of this kind of entrepreneurial spirit.
Check out our Holiday Happenings page to see how you can show your support for your local businesses while enjoying their hospitality. The Holiday Strolls are not just about shopping; they are about talking to neighbors over hot chocolate and cookies.
We hope you enjoy our wonderful Life Stories section, filled with humor and compassion, as well as Marlene Bell's nostalgic fiction, Christmas Eve, 1953.
In the New Year we will launch a series of themes for future issues. The new Submission Guidelines will be online soon. We invite you to review them and submit your stories.
Thank you to our contributing writers, artists and advertisers, who make this magazine possible. Your support means everything to us.
Wishing you a Peaceful and Happy Holidays!
Nicola, Katie and Jane