I returned to the United States in May 2008. That year I married my husband and started the process of becoming a citizen. In the many months of being unemployed and waiting for my work visa, I developed my interest in painting.
When I was an architect, I spent most of my time in the office working on designs. Occasionally I ventured out into the field to supervise and make sure blueprints were carried out properly. Many things in my life changed when I moved to the United States. My day-to-day life changed as a result of not being able to continue my architectural career.
Then, in October 2011, my first child was born. Being an independent woman, the transition into becoming a stay-at-home mother was difficult for me. Painting became a good outlet, because it allowed me to express myself and have a voice while raising my son.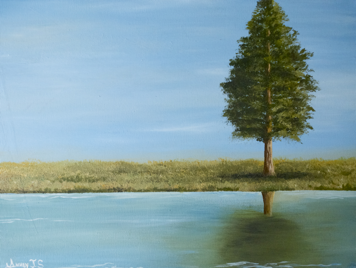 My first paintings were inspired by scenes that reminded me of my home. When I started painting, I had no prior education in Fine Arts. My very first paintings took a significant amount of time to complete because I didn't know the proper steps to create the look I wanted. I would start the detail and then later add in the background. I researched techniques and methods online and also read books about painting to learn how to create certain effects.
In my mind, art is a form of therapy. Painting is about my interpretation of my many environments. My paintings often reflect the nature and landscape of Dominican Republic, a place I hold dear to my heart. The scenery expressed in my work often lets me escape from the troubles of my reality into places I fondly remember. My paintings tie my memories of the past with my present life.
When people look at my artwork I want them to experience the feeling that they can belong in the environment I have created for them.
In the future, I would like to share my work with others, hoping they will enjoy it as much as I do. A goal of mine is to get my work into art shows, galleries and be recognized for what I love. My wish is that individuals with similar stories can relate to my work.