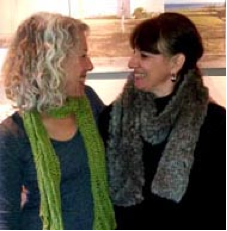 Amy Mason and Pamela Wills
Now, in a slightly larger home that gives her studio and shop space, Amy and Stony Brook Design are open to the public, doing retail for the past five years, full time for the past three. Amy feels very confident as an artist and as a business woman.
Pamela Wills, Confidence Coach
For Pamela Wills, living on the Cape has been a full-circle journey. As a Falmouth New Silver Beach summer kid, the Cape always owned her soul. Even going to school in D.C. and then living in Germany for almost two decades couldn't keep her away; she returned "home" to live with family five years ago and promptly enrolled her daughter in first grade.
Returning here brought lots of changes, both wonderful and difficult. She ended her marriage to a controlling husband in Germany, followed by a three-year international legal battle in which she won full custody of her daughter.
That settled, Pamela looked at her life and knew she wanted to give and do so much more than she had up to that point. With energy, time and passion to help others who might be facing similar challenges, or might want to build courage and confidence in their lives and careers, she found that life coaching was a natural fit. In 2010, she took the plunge, earned her certification, and hung out her shingle: Pamela Wills, Confidence Coach.
"When I was a kid, I was the quiet, shy one," says Pamela. "I was the listener and shoulder to cry on. Maybe it was because I was taller than most, or because my birthday falls in February before most of the others. Whatever the reason, the other kids seemed to come to me for decisions."
She continues, "Somehow, I became the thinker, philosopher, helper among my peers as we grew up. I didn't always follow my own advice but I was always ready to help!"
When she started coaching, it was clear to her that this was exactly the right path for her to be on. She loves helping people, talking with people, speaking in front of people, writing blogs and articles and generally teaching and coaching.
Believe + Inspire + Grow = B.I.G.
Connections, word-of-mouth, referrals… These are huge business essentials. In a unique community like Cape Cod, these are crucial means for growing a business.
What do you get when you mix a group of entrepreneurial women, a compassionate environment, and the need to connect?
B.I.G., as in "Believe Inspire Grow," is a business networking and support organization exclusively for women, which has finally hit Cape Cod. With monthly meetings that feature professional presenters, and "pods" in Falmouth and Mashpee, B.I.G. is growing quickly.
Zoom back to March 2012. Amy Mason had never heard of B.I.G. but was invited to attend a meeting at the Falmouth pod by a friend, Helen Kosinski, a business coach in Brewster, who was the presenter that month. The topic: Growing Your Business Confidence.
"Ugh," thought Amy, "Go all the way to Falmouth from Brewster? Well, Helen's awesome, so I should go."