Tourists come from all over the world to experience Cape Cod. Our beaches were declared a National Treasure more than 50 years ago, and designated as a National Seashore.
How many of us take time to appreciate the Nature we see every day as we drive to work, or to the supermarket, or to drop the kids at school? How many times did you sit on the beach last year?
From the roaring glory and surfer haven of high tide at Nauset Light Beach in Eastham to the meandering rivulets filled with scuttling hermit crabs along the low-tide sandbars of Skaket Beach in Orleans, Cape Cod has enough variety to satisfy everyone.
And if you're not in the mood for saltwater, there are even 365 different lakes and ponds to choose from, right here on Cape Cod.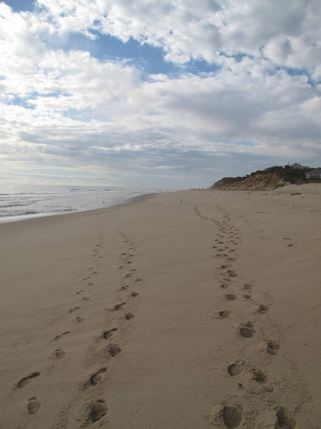 Nauset Light Beach, Cape Cod
So why not take advantage of these beaches that are so close to home? Why travel all the way to the Pacific in order to relax in the sand?
There is no short answer. There are, however, a lot of excuses. And I'd venture a guess that it's not just me making excuses.
The world moves at an incredible pace. With the twenty-four hour news cycle and a smart phone in every pocket, there is no escape from the busy world around us. Unless we consciously make the choice to take time to relax, it doesn't happen.
Sitting on that Mexican beach, I made a promise to myself that 2013 will be different. This year, I'm writing it on the calendar and scheduling time to sit quietly and enjoy Nature's bounty and beauty.
I think I need a new beach chair.