It is estimated over the next fifteen years, 500,000 students diagnosed with autism will transition out of the school systems as they reach the age of 22 and enter into adulthood. In the years to come, these numbers alone will force awareness of this population front and center.
Cape Cod Village, born of an idea of Bob and Lauren Jones, became the mission of a group of determined parents of children with autism.
The Jones' son, Alexander, has severe autism. Now 24 years old, Alex lives in a group home with other residents who have a variety of disabilities and ages. These homes are nonspecifically tailored to the needs of autism and can be isolating.
My son, Ian, is also diagnosed with severe autism. At age 19, he continues to attend a school that supports his needs. He is surrounded by peers and social activity that promotes quality of life.
He has ongoing exposure to stimulating social activities such as parties, dances, swimming, and movies that are provided in a safe and supportive environment with trained staff.
This will all come to an end when my son reaches his 22nd birthday. Like Alex, Ian will follow in his footsteps and move out of the safety of the school environment into a group home and enter the unknown adult world.
The support he received for 22 years will abruptly stop and his world will change dramatically. Minimal supports will be put in place and his quality life will be reduced.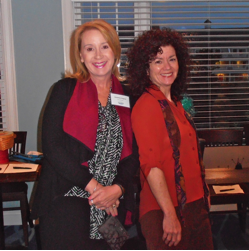 CCV Board Members Christine Gagnon and Johanne Kieffer. parents of adult sons with autism. Photograph by Lauren Jones
Parents of adult children with autism continue to face the challenges to plan, provide and manage their children's lives. This arduous journey is too much to travel alone.
The time has come for Cape Cod Village, a community to provide the care needed for adults with autism; a place where our children can be safe, while enjoying a quality of life with dignity and a sense of belonging.