A Christmas Tradition
by K.S. Mueller
Every holiday season, for as far back as I can remember, the television would broadcast and re-broadcast the movie "It's A Wonderful Life" about 1,000 times between Thanksgiving Day and New Year's Day. On the Friday of Thanksgiving weekend, you could often find the picture, at that time enjoying public domain status, showing on several TV stations simultaneously.
The film has a so-called cult following, but was considered a box office disappointment when it was first made by the brilliant Frank Capra in 1946 just after the war.
It didn't win the Oscar for Best Picture that year – that honor went to another of my favorite films, "The Best Years of Our Lives" starring real-life Massachusetts war hero, Harold Russell – but "It's A Wonderful Life" became a holiday favorite in future decades, and remains one of America's favorite holiday films to this day. It is my favorite movie of all.
During the glory days of the film's public domain status, I would choose an airing that fit in with my schedule, and I would wrap Christmas presents while watching Jimmy Stewart as George Bailey agonize over the missing $8,000, declare that he wished he had never been born, and rejoice upon finding Zuzu's petals in his pants pocket when he returns from his ill-fated wish.
I'd spread the various presents for my family and friends on my bed, and wrap the gifts ever so lovingly (that's facetious; I am a miserable failure as a gift wrapper.) As one would sing along with a song on the radio, I'm able to recite the entire movie script while watching.
No matter how many times I've viewed this film, I cry when Harry Bailey raises his glass in the hushed room, and toasts, "To my big brother George, the richest man in town."
Watching Capra's amazing film is perhaps my one, and only, holiday tradition. Most people I know have never really watched the movie from beginning to end. Most people only know the last 45 minutes, from the point where George Bailey jumps off the bridge, and is saved by Clarence, the angel who needs to earn his wings. When George tells Clarence, "I wish I'd never been born," and Clarence grants that wish, "God" (we think) gets just a teensy bit angry.
The remainder of the movie is spent watching George come to grips with the fact that he's never been born.
As a result, Mr. Martini doesn't own the local bar (where bartender Nick "gives out wings" by repeatedly ringing the cash register bell), Mary is a librarian and "an old maid; she never married," the old Granville House is unfit for human habitation, and Harry Bailey has a tombstone in the cemetery, having drowned as a child because George wasn't there to save him. Harry was unable to save all the men on the sinking transport ship in the war, because George wasn't there to save Harry. The list goes on and on.
At about this point in the film, most viewers start crying. By the end of the movie we are a collective blubbering mass. In the final scene, a crowd gathers in the renovated Granville House where George and Mary live with their brood.
The entire town has gotten together to collect $8,000 (plus) to get George out of a pickle. Mysteriously, the book "Tom Sawyer" turns up atop the huge pile of cash before George. He picks up the book; he opens it.
Through tear-filled eyes, the viewer reads along with George and Mary as a little bell jingles ever so quietly on the Christmas tree in the background.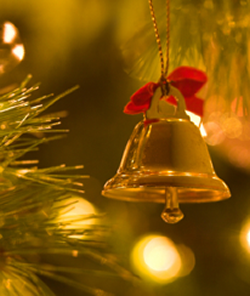 Clarence's parting message to George Bailey: "Dear George, Remember no man is a failure who has friends. Thanks for the wings, Love Clarence." The aforementioned Zuzu hollers above the din of celebratory mirth, "Look Daddy! Teacher says, every time a bell rings, an angel gets his wings!"
In 1990, the Library of Congress deemed "It's A Wonderful Life" so significant that it was selected for preservation in the National Film Registry.
In 1998, the American Film Institute recognized it as one of the "100 best American films ever made." Some years ago, the picture's copyrights were upheld in a Supreme Court ruling, thus taking it out of public domain status. It is now only broadcast twice per season on TV.
For non-fans, this change sparked immense relief. For others, like myself, sadness and melancholy. Thankfully, I had a copy of the film on VHS. Later, a knowing friend gave me the DVD of the movie for Christmas. I watch the DVD now whenever I want, but somehow I always manage to tune in to NBC for those two showings. After all, it's a tradition.
I generally finish wrapping the last of the presents just as the movie ends. Today, with my family dwindling, elders dying and the younger bunch growing up, marrying, having families of their own and moving away, the presents are few and far between. That's okay as I'm a failure at wrapping presents, but I have a lot of friends. Watching my favorite movie of all time is a holiday tradition for me, and one I hope to continue forever.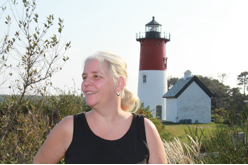 K.S. Mueller writes short stories about dogs, cats and other topics during her spare time from her "real job" as a travel executive.
Mueller lives part-time in North Eastham and the rest of the time in the farm country of central Massachusetts, with her significant other, Gil, their three dogs, Hobie, Charlie Brown and 3-legged Cooper; and three cats: Cali, Tux and Newman.
Mueller has shared her life with dozens of dogs and cats since childhood, and volunteers for several animal-related non-profit organizations, including the Eastham Dog Owners Association, where she is a member of their board of directors.
In 2010, she discovered a box of letters written by her late parents during WWII, and is currently publishing those letters in a three-volume biography of the Mueller family.
Visit her web sites at www.ksmueller.com, www.k2k9.com, and www.fibroworks.com