Peanut Butter "Blossoms"
½ cup margarine
¾ cup peanut butter
1/3 cup white sugar
1/3 cup brown sugar
1 egg
2 Tablespoons milk
1 tsp vanilla
1 ½ cup flour
1 tsp baking soda
½ tsp salt
white sugar for rolling
unwrapped Hershey Kisses
Preheat oven to 375 degrees.
Cream together margarine, peanut butter, and sugars.
Blend in egg, milk and vanilla.
Add dry ingredients.
With clean hands, roll small amounts of dough into walnut size balls.
Roll balls in sugar to coat. Place on baking sheet.
Bake about 10-12 minutes.
As soon as remove cookie tray from oven, place one unwrapped candy in the center of each cookie, pressing chocolate down into soft, warm cookie.
As the cookie cools fully, the chocolate will harden into place.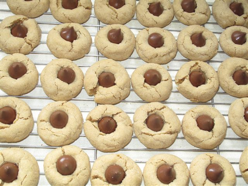 Got "leftover" unwrapped candies? Me neither!
Teagan O'Sullivan is a seventh grade honor student at Harwich Middle School. She loves to bake – especially at the holidays. Any holiday.
Photographs courtesy of Katie O'Sullivan