Goddess Festival Celebrates the Wise Women of Cape Cod
by Pandora Peoples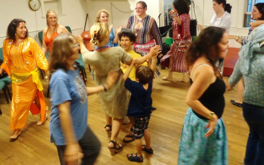 Troupe Isis Hafla Photograph by Cara Totman
Cape Cod at the holidays is a unique brew of sweet and spicy creativity with a savory aroma of community. Winter heralds a time when families gather with warm voices at public sing-a-longs, sipping hot apple cider while enjoying hayrides and holiday parades.
With Cape Cod having been the home base of pirates, austere pilgrims, privateers, sea captains, mooncussers, and a flourishing matrilineal Wampanoag culture, is it any wonder that it has come to be a safe haven for eccentric artists, a spectrum of religious communities, gay and lesbian culture, and salt-of-the-earth folks who value hard work and family?
Is it the numerous postcard-worthy beaches and expansive horizon, the symphony of warbling songbirds, the chiming of church bells, the call of the fog horns, or the temperate climate and the ions in the rolling fog that make Cape Cod so appealing to the heart?
Or, is it the cozy nights spent reading, cuddled in front of a fire, that evoke the spirit of Bay State intellectuals who valued education and equal rights, luxuriating in the written word? People like Louisa May Alcott's father, who pioneered artistic expression, philosophy and women's education.
The holidays here are a magical time indeed, in this beachy fairyland with snow-dusted docks and harbors, Uncle Eddie's magical castles, braying sheep at tucked-away farms, live jazz from living legends, and Snow's train displays.
It is a time when gifted artisans are busily creating in their studios, exhibiting and selling their unique creations.
For those of us inspired by powerful female role models, who crave the feminine energy and wisdom during the holiday season, Mother Mary embodies the sacred feminine.
She represents compassion, strength and nurturing. She represents the majesty of life-giving. In Italy, La Bafana, the Christmas Witch, brings gifts to girls and boys. In Sweden, girls dress like St. Lucia, bringing coffee and cakes to their parents before parading through the street together. In Russia, female Kolyada gives out presents on Christmas Eve.
The sacred feminine is alive on Cape Cod, reflected in the wise women with graying hair and in the snappy step of volunteers and knowing smile of bicycling octogenarians, in the doulas, the herbalists, the healers, and the gardeners.
The wisdom of women is in the wombs of all women, regardless of whether or not they have born children. It is that innate creativity which empowers women to multi-task with heart and soul. Female divinity is indeed undeniable and irrepressible.
Nowhere was it more apparent than at the First Annual Cape Cod Goddess Festival, held in Harwich at the HJT Arts Center over Labor Day weekend.
The synergy of the grassroots event, featuring exceptionally talented local teachers of artistic and holistic disciplines, was palpable. The soulful beauty and magic was felt by all who connected with the exquisitely skilled belly dance of both Troupe Isis and Anahita, bringing some of the audience to tears before getting members to participate in group line dancing.
A performance by Cape Cod African Dance and Drum honoring goddess of love, Erzlie Freda, imbued the room with an air of ancient wisdom. The aching honesty and complex melodies of Hana Kahn, Maggie Grabmeier and Molly Parmenter were profound.
Brilliant lyricists like Diana Di Gioia, Sarah Burrill and Alicia Mathewson reminded of us our spiritual strength. Yana Sorokina blew us away with her phenomenal talent on the piano playing a range of blues styles that would have the old great blues masters tap dancing on their seats.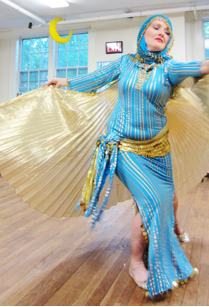 Khadija Photograph by Pandora Peoples
The Festival's art show featured collages by Shannon MacDonald, fairytale illustrations by Richard Williams, watercolors by Becky Burrill, Super Goddesses from graphic artist Ned Sonntag, and my photographic series "The Living Goddess," examining the Goddess within reflected in global mythologies and folklore.
Celebrating the divine wisdom and creative genius of women is now an annual summer event, thanks to this year's participants and benefactors who are already expanding the festival for next year.
For updates on the 2013 Goddess festival visit capecodgoddessfestival.com
Pandora Peoples is a psychic medium, herbalist and writer offering workshops on connecting with the sacred feminine, healing with plants and connecting with your guardian angels and those who have passed on. Her company, Pandora's Garden, offers magical readings, teas and gifts of Cape Cod.
To learn more about Pandora Peoples and her Magical readings, teas and gifts of Cape Cod visit pandorapeoples.com and pandorapeoples.blogspot.com
To learn more about Pandora's Garden: pandorasgarden.net
Contact Pandora at 508-694-7721
or email her info@pandorapeoples.com