That first holiday season they both spoke enthusiastically of new beginnings once they were both rested and spring arrived. Mom would be well enough, and Dad strong enough, for her to return home. With a little help, they could live out their lives at home as husband and wife.
Trust as New Beginnings
January came, and the winter was not to be a time of rejuvenation, spring rebirth, and a return to their partnership relationship. Mom began to have more difficulty walking and holding conversations. Dad, while stronger, was still frailer than before, his energies sufficient only for himself. The struggle continued to seethe underneath, between what was their present and what once had been their life.
As the New Year became simply the year, something shifted, slowly at first. Both my parents began to quiet and flow, acceptant of where they were. The rolling boil of wishes unfulfilled ebbed away. Mom began to see the comfort and caring that others provided. The attendant, Josephine, with her quirky quips during the morning reading of the newspaper. The aide, Norman, in his gentle movement of her from wheelchair to bed.
Dad began to trust he had partners who cared for her well-being as he did. Slowly this all was no longer a separate part of their life together. They began to feel this was the way for them to be a married couple again.
As their acceptance grew, their gratitude expanded. They saw the nursing home and the staff honor my mother's wish of home, because where she is now is home; and her yearning of a partner was returned, for now Dad's time with her is as a husband.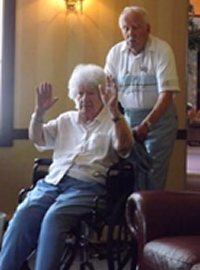 As they approach this second holiday season, the nursing home surroundings are now entwined in all that is their life. They are thankful for another year together, and they look forward to opportunities to be together.
The New Year brings them into their 60th year as husband and wife, the first birthday of their third great grandchild, the high school graduation of a grandson.
Through this storytelling and my mother's acceptance, I find that gratitude becomes possible through acceptance of where we are in our present moment. And that gratitude brings thanksgiving, warm and sheltering. From my father, I have learned that trust allows the fears of what if and what was fall away such that new beginnings become possible and opportunities abound.
Happy Holidays to you all.
What Is Your Question of Balance?
"The holidays come and go so quickly. I never seem to be able to stop and enjoy the season.
Jamie, Hyannis
The Cookie Jar
So many people share in your challenge. Many articles are written this time of year on slowing down, being aware, making time.
Here is something you can set up at the beginning of the season and share with your family throughout the month of December.
Find a jar with a lid.
Get some paper and pens.
Thanksgiving Day after dinner and before everyone falls asleep, sit together and think of things you like to do between Thanksgiving and the New Year, e.g. ride around the neighborhood looking at the lights, make cookies together, go to HJT presentation of "A Christmas Carole," etc. Write each thought on a single piece of paper.
Fill the jar.
Once a week reach into the jar, grab a "cookie," and do what the cookie asks.
You may just start a holiday tradition.