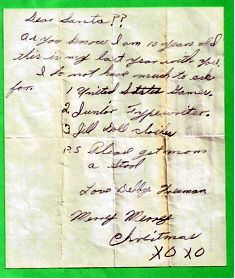 Several years ago, I found a letter I'd written to Santa, preserved by my mother in a small envelope:
"Dear Santa??
As you know I am 10 years old this is my last year with you. I don't have much to ask for:
United States game
Junior typewriter
Jill doll clothes
P.S. Please get mom a stool
Love, Debby Freeman
Merry Merry Christmas
XOXO"
Looking back now, how humble I had been to request only three gifts on the final year Santa would ever bring presents to me.
On top of that, I seemed to be a considerate child, asking for a stool for my mother. What a useful gift for her to open on Christmas day! I can only imagine what Mum must have thought when Santa left this treasured gift under our tree. I was sure every mother wanted one.
Had it been one step, or three? I couldn't remember. Would she use it as a cobweb assistant or perhaps to rest her weary feet upon at the end of the day? In my mind's eye now, I believe my mother treasured this gift from Santa. It had been, without a doubt to me, the only gift she wanted.
Looking back, this one small gift must have delighted and captured her soul, igniting memories of other times for her. Maybe, on a visit to her grandmother's house, in 1920, she used a stool to climb upon Meme's Victorian bed, to stay warm while she slept overnight on a winter's evening.
Her light purple silk shoes on graduation day 1928, rested upon a stool while she rolled her stockings over her knees. In January 1936, she knelt beside her new husband and sealed their forever vows with a kiss, in front of the priest at the altar of her church.