Art Beyond the Classroom
A Teacher's Love for Art Inspires Her Students
by Nicola Burnell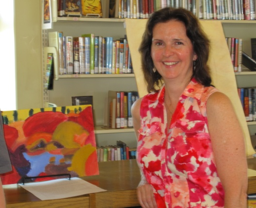 Bernadette at an exhibition of her students' artwork
Bernadette Waystack showed promise as an artist in second grade, winning the "Saint Luke Award" at an art exhibit at Boston College.
Twelve years in a Boston Catholic school, however, did not nurture her talents. "I went dormant," says the Harwich art teacher. "When I compare my middle school years to what my students have, I can't help wondering how differently my own art path might have been."
With a B.F.A. from UMASS Amherst, Bernadette dedicated her career to teaching art. An advocate for arts education, she appreciates the fact that Harwich students are required to take visual arts from Kindergarten through eighth grade.
"I tell my students that they need to know what an important place they have in the history of modern art. Many of them don't realize what the legacy of art on the Cape truly is. It's their birthright as citizens of this place."
In 2008, the teacher became a student again when she embarked upon a Masters program at Savannah College of Art & Design (SCAD). "I received a Masters in painting, carrying courses online while teaching full time, and spending three summers in Savannah doing my studio work."
Bernadette's passion for the arts has spilled into her classroom. For the past seven years, with support from the Arts Foundation of Cape Cod, Massachusetts Cultural Council, Harwich Cultural Council and Cape Cod 5, she has collaborated with Chris McCarthy and Lynn Stanley at PAAM to bring her entire crew of eighth graders to the Provincetown museum to experience hands-on art and direct meetings with contemporary working artists.
With a background in quilts and pastels, Bernadette had fun interpreting a Fritz Bultman's collage in fabric for PAAM's Student and Educator Curating Program.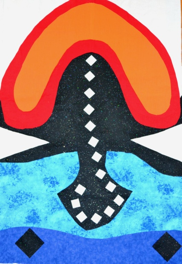 Night Enters the Water interpretation
The original, Night Enters the Water, which is part of PAAM's collection, is one of a group of pieces they selected for this year's exhibit," she explains. "I had my students in 5th, 6th and 7th Grade do interpretations of pieces of their choice and 3 of them plus mine will be in the 20th Anniversary Exhibition. I am constantly amazed each year at the superb work they produce. They are deeply invested in what they do because they choose it and it's phenomenal."