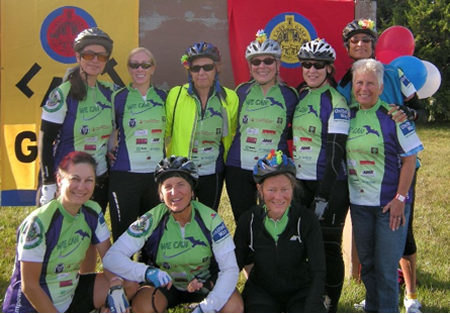 Team WE CAN at the 2011 Last Gasp
Jane Bourette, of Drake Saunders & Diwisky, rode with the 2011 WE CAN team. She says, "It was an incredible experience. I really enjoyed every minute of it and look forward to doing it again this year."
Stephanie Boosahda, a staff member at WE CAN, was also part of last year's team. She'd always wanted to ride in the event, but didn't think she could last 62 miles on her bicycle.
"Andi assured me that the Team WE CAN would have training sessions. Each week I joined close to a dozen others biking from beach to beach, thoroughly enjoying the Cape. About mid-July I asked, 'So, when are we going to start training?' To which Andi replied, 'What do you think we've been doing all this time?'
"Amazingly, the training was just plain fun, and the actual Ride Day, was, as our captains, Andi and Pam Patrick, predicted, like a victory lap." Stephanie has already signed up to be part of that fun again this year.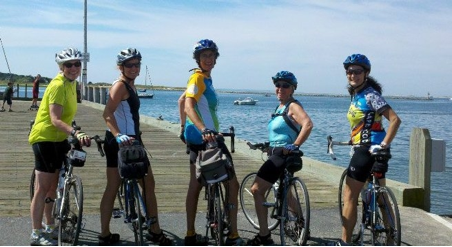 Team WE CAN Training Ride
"Fun" seems to be a big part of the mission for The Last Gasp, and for the organization that dreamed up the event, Cape Cod Charitable FunRaisers. On their website, founder Bill Murphy says his group tries "to create events that are a little different from the mainstream." They also guarantee that 100% of money raised or donated goes to the charities, which he thinks is what really sets his organization apart.
To register yourself or a team for The Last Gasp, visit the website. There's an $85 registration fee to participate in the full "Bike-Boat-Bake" event, or a $50 option for just "Bus-Bake," for friends and loved ones who want to be supportive (and enjoy the clambake) but aren't up for the 62-mile ride.
There's a $500 minimum for fundraising, with your choice of which beneficiaries receive your donations. The registration deadline is September 4, but only the first 200 registrants will have spots on the boat cruise, so sign up soon.
One of the fun events leading up to The Last Gasp is the 3rd annual Last Gasp/Cape Cod Beer Bash. This year it'll be held on August 17, from 5 p.m. to 9 p.m. at the Cape Cod Brewery on Phinneys Lane in Hyannis. The advertisements boast "Summer fun at it's best, without a lot of training involved."
Tickets for the Beer Bash are $25, which gets you 4 drink/food tickets to be used any way you like at the beer and food booths. (Additional tickets are $5 each.) There will be live music, a silent auction, and some unique live auction items as well. Again, 100% of the proceeds will go to the Last Gasp beneficiaries. If you prefer flip flops and beer over bike shorts and training sessions, be sure to put this on your summer calendar. For more information visit www.capecodbeer.com
All photographs courtesy of WE CAN