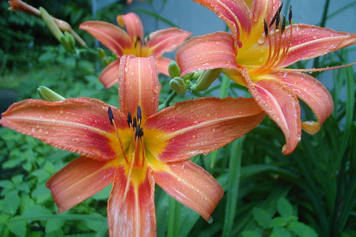 The Heights
by Jadene Felina Stevens
You preferred the view from the second story
the rarefied heights…
and yet, that half-opened door
where you listened and conversed with the world.
At night, lilies drew you to the window
scented the lower rooms
…and then you paused from the cares of the day
to write of the life on the first floor.
…you had to tiptoe down to wade among the lilies.
You, who turned to the gardens of the night
who traversed imagined worlds
as numerous as summer's flowers…
you would reach into the blossoming conflagrations
gather a few stems to carry away
to your second floor observatory
to study at your leisure
petal by flaring petal…
to seek the fire behind the lily.
Thinking of Emily Dickinson and her nightly studies. You can email Jadine at: saltwindspoet@hotmail.com