Harbor Your Arts Artist Shanties for Summer 2012
The "Harbor your Arts" Artist Shanties at Hyannis Harbor/Bismore Park opened for the 2012 season on Friday, May 18.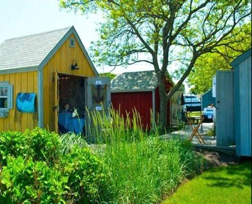 The Artist Shanties at Hyannis Harbor
Starting Friday June 22, the shanties are open seven days a week, from 11:00 a.m. until 8:00 p.m. through September 2nd. Beginning Labor Day, September 3rd, through September 30th, the shanties are open seven days a week, from 11 a.m. until 5p.m.
Throughout the summer a variety of entertainers will perform outside at the shanties. From May through September, musicians will play various days and times. Entertainment varies and visitors might discover a juggler, strolling magicians and/or a variety of musicians!
On Thursdays in July and August, join artist and naturalist Mary Richmond for free fun arts and crafts activities from 4 to 7 p.m. Projects will be ongoing and may vary each week. Bring natural history questions and there may be some surprise ocean critter guests too!
Artist Allyson Bizer Knox will lead free family fun projects from June 22 through June 29th for visitors who drop in between noon and 8 p.m. Allyson will also be there on Tuesdays in July (July 10th, 17th, 24th, 31st) for drop-in crafts between 2 and 6 p.m.
On September 15th, visitors will be treated to a performance by the United States Air Force Liberty Jazz trio at 2 p.m.
Visitors to the seven harbor side shanties will enjoy a variety of photography, painting, handmade jewelry, ceramics, sculpture, stained glass, mariner knot work and much more. Information on all the artists is available online at www.hyartsdistrict.com.
This year, over 50 Cape Cod artists will occupy the seven artist shanties. Three of the shanties – the White, Yellow, and Light Grey – will showcase rotating artists. The Dark Grey shanty will feature a monthly rotation of artists, starting with pottery artist Laurie Goldman in June. The Red, Blue and Green shanties will be the summer studios for six full-season artists.
The Red Shanty will be shared by Sue Patev and Beth Higgins. Sue, known as "the Sea Hag", creates one-of-a-kind Cape Cod seashell wreaths. She also makes unique polymer mermaid jewelry.
Beth Higgins is a photographer who finds her sense of peace in the natural beauty of the earth, especially that of Cape Cod. She hopes her photography will evoke fond memories of times and places visitors and residents have enjoyed on Cape Cod. Her work is available for sale in many formats ranging in size from greeting cards to pieces of art to hang on the wall as a year-round reminder of beautiful Cape Cod.
The Blue Shanty will be shared by Barry Olofsson and the Small family. Barry is an award-winning Cape Cod artist that does realistic portraits and local maritime and village scenes in oil, pastel, and charcoal. He also creates colorful digital art from photographs. He is available for commission paintings of your favorite people and places and offers giclée prints of his work.